Meet the COEDC – Maurice Blitz
Meet the COEDC October 3, 2022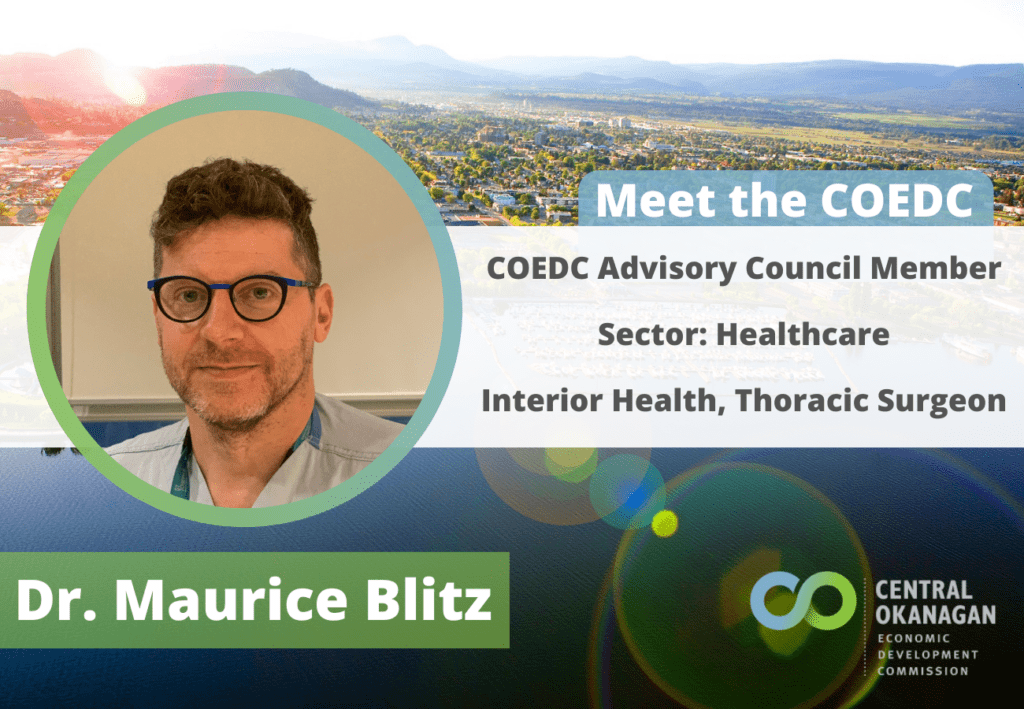 For those who may not know, the COEDC Advisory Council is a conduit of information between business, community leaders and government. The council meets monthly to share information and work together towards sustainable economic growth. It is made up of 45 influential members consisting of industry leaders, community shapers and elected officials. One of these such members being Dr. Maurice Blitz!
The aim of the Meet the COEDC campaign is to share with our community who the Economic Development Commission is and showcase the COEDC Advisory Council members who play a critical role guiding the regional economic development service.
Dr. Blitz is a thoracic surgeon at Kelowna General Hospital and is the president of the Medical Staff Association and KGH Physicians Society. He has won numerous awards in the field of surgery and teaching and continues to work locally as well as nationally and internationally on educational programs. He has been published in peer review scientific and clinical journals and has also presented his work at international conferences in Canada and the US.
Dr. Blitz' clinical interests include both open and minimally invasive approaches to malignant and benign disease of the chest and esophagus.
Continue reading to learn more about Maurice's outlook on industry specific trends and forecasts for the Central Okanagan! And check in each Monday to meet a new member of the Advisory Council, and to learn why they love to live and work in the Central Okanagan!
What organization are you from and what is your role?
I am a thoracic surgeon at Kelowna General Hospital and am currently the president of the Medical Staff Association and KGH Physicians Society.
What excites you about the future of your respective sector?
This is a sector that is constantly changing: new technology, approaches, disease as well as new ways to train in conjunction with novel methods of delivery makes medicine an exciting and constantly evolving field.
Why is participating in the Advisory Council important to you?
Learning about the challenges faced and innovations created by everyone helps us deal with our own challenges or even avoid them if possible. Also, allows us to be involved with the solutions as a participant rather than a bystander.
Why do you love living and working in the Okanagan?
Perfect place to raise the kids with so much nature and a welcoming climate.  Also close to all the relatives!
You Might Also Like...
---