Meet the COEDC – Terry Edwards
Meet the COEDC June 6, 2022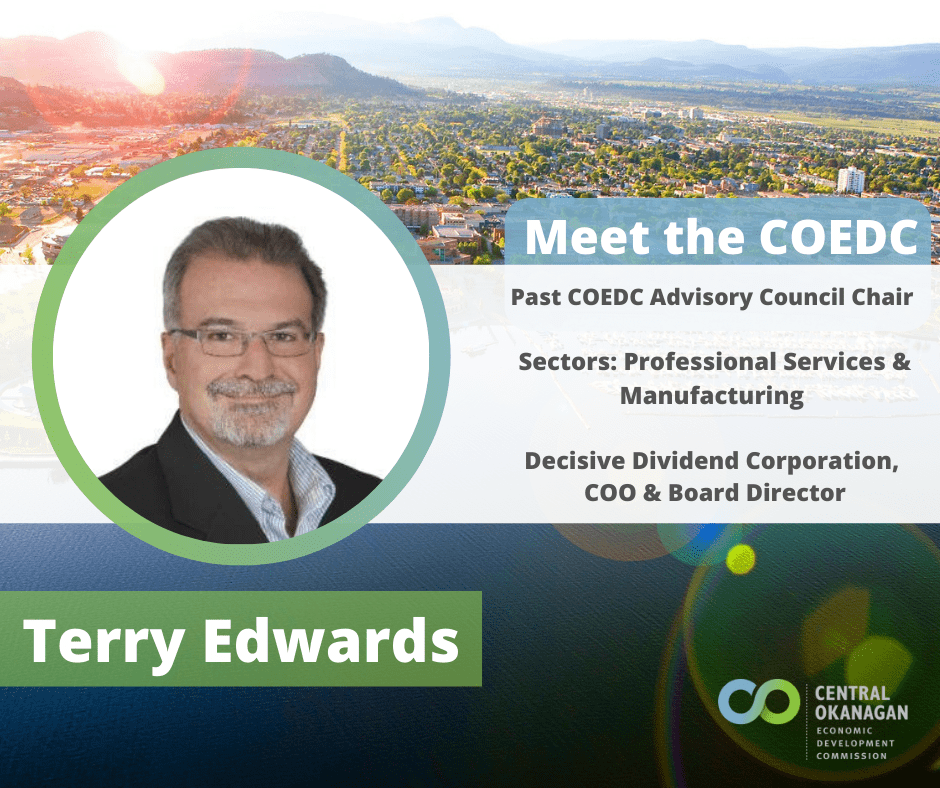 Editor's Introduction:
For those who may not know, the COEDC's Advisory Council is a conduit of information between business, community leaders and government. The council meets monthly to share information and work together towards sustainable economic growth. It is made up of 45 influential members consisting of industry leaders, community shapers and elected officials. One of these such members being Past Chair, Terry Edwards!
We asked (volunteered) Terry to be the first to kick off our Meet the COEDC campaign, to share with our community who the Economic Development Commission is and showcase the COEDC Advisory Council members who play critical role guiding the regional economic development service.
Terry is a valuable member of the council, with experience in both the manufacturing and professional services sectors. He was part of the founding group of Decisive Dividend Corporation and is currently the Chief Operating Officer and Board Director of the organization.
Check in each Monday to meet a new member of the Advisory Council, and to learn why they love to live and work in the Central Okanagan!
Q: What organization are you from and what is your role?
A few years ago, I was fortunate to be part of the founding group of Decisive Dividend Corporation (listed on the TSX Venture Exchange). We are in the business of acquiring well-established manufacturing companies, holding them for the long term, and providing our shareholders with a stable and growing monthly dividend.
Since 2015, we have completed six acquisitions and paid out $16 million in monthly dividends. The six companies acquired include four based in the Okanagan (Blaze King, Northside Industries, Slimline Manufacturing, Unicast Inc,), one based in Alberta (Hawk Machine Works), and one based in Ontario (Marketing Impact).
Since inception, my roles with Decisive Dividend Corporation have been Chief Operating Officer and Board Director.
Q: What excites you about the future of your respective sector?
Many things: we are encouraged by the strong demand being experienced across our portfolio of companies; we are proud of how our teams have delivered for customers in a challenging market; and we are excited with the recent addition of Marketing Impact to our group, which provides us with further product, industry, and geographic diversity.
We believe we are well positioned to drive forward with our buy, build, and hold business model which provides business owners with an exit opportunity, continuity of their business legacy, and the stability of long-term ownership for employees and customers. That long term commitment resonates with the exiting legacy minded business owners that form our target market.
We are in the middle of a period where the largest intergenerational transfer of wealth in history is taking place. Our story and the succession planning opportunity we can provide for these types of business owners is extremely attractive to them. As a result, we are actively looking for our next acquisition and are excited about our growing pipeline of opportunities!
Q: Why is participating in the Advisory Council important to you?
Many reasons: supporting the impressive work that the COEDC does; the privilege of working with a dedicated group of 45 influential community minded individuals that represent industry, different levels of government, and service providers; the passion the staff and advisory council have for building on the economic strengths of the Okanagan; the determination the staff and advisory council have for addressing the challenges that come with being Canada's fastest growing community; and the opportunity to meet, work with and learn from such a diverse group of people.
For me, participating in the Advisory Council is time well spent for sure!
Q: Why do love living and working in the Okanagan?
We love it here. We initially relocated to Kelowna (thank you CIBC) for four years, left for career related reasons, and then jumped at the opportunity to return to Kelowna in 2005 (thank you Pushor Mitchell).
I have had the opportunity to live and work in five provinces, and while there are fond memories from all of them, you simply cannot beat what the Okanagan has to offer. The lifestyle does not get any better, which combined with a thriving business community, make this area such a desirable place to live and work.
This time we are here to stay!
You Might Also Like...
---