Event Links
Location
Delta Grand Okanagan Resort & Conference Centre
Get Directions
Category
Delta Grand Okanagan Resort & Conference Centre
1310 Water Street
Kelowna, BC V1Y 9P3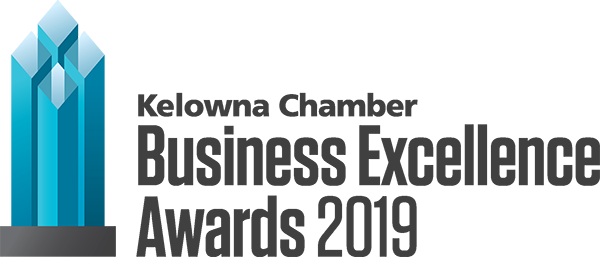 It's that time of year again -- the 2019 Kelowna Business Excellence Awards are here and were ready to help recognize and celebrate the best in Kelowna-area business and community leadership.

For the 32nd Annual Business Excellence Awards Gala, we chose the theme "Destination Excellence: Celebrating those driving Kelowna's success". This past year has been an incredible period of continued growth and expansion into the world economy for Kelowna. National and international companies continued to open local branches and even headquarters right here in our city. Locally-grown businesses expanded their operations and exports around the world. It's clear that Kelowna's influence is expanding beyond our region and even our provincial and national borders.
We've always been a destination, but now were a destination for excellence and its the businesses, entrepreneurs and community organizations that our among our Business Excellence Awards Nominees and sponsors that are responsible for much of that success.
At this year's Gala, we'll be unveiling the award winners in 12 categories, including a new award (Excellence in Tourism), and recognize the top-prize - Business Leader of the Year. The nominees have already been submitted and can be viewed on our Business Excellence Awards page. A panel of independent judges are currently evaluating each nominee, with the top 3 finalists in each category set to be unveiled at the Nominees Luncheon on Oct 3.

Join us for a sparkling soirée as we recognize leading businesses in our community. With our new categories, exciting line-up of nominees and the glamorous gala, this promises to be a sensational year for our Business Excellence Awards!

MC'd by Chanine Carr & Stephen Keppler from 101.5
Hashtag to include when posting to social media: #KelownaBizEx2019
---
AGENDA:
Sponsors:
4:15 pm | Early Check-in for Sponsors
Attendees:
4:45 pm | Check-in for Attendees
5 - 5:45 pm | Reception in Foyer (cash bar)
5:45 pm | Doors to banquet room open (foyer bar closes)
6 pm | Opening Commentary
Awards
Dinner
Awards
DRESS: Formal Attire (No jeans, Men: Suit & Tie, Women: Dresses or Pantsuits)
PLATED DINNER MENU:
Starter: Roasted Tomato Tart with Dill Salad & Graffiti Green Sauce
Entrée: Braised Beef with Black Cardamom Glaze, Gruyere Crushed Potato & Seasonal Vegetables
Dessert: Okanagan Peach Cheese Cake
---
Sponsorship Opportunities: Contact our Sales & Development Manager
Purchase Deadline: Gala Tickets must be purchased before 4pm on October 28, 2019
Cancellation Policy: Cancellations must be received 3 business days prior to the event to be eligible for a refund.
| Event Item Name | Expires | Pricing |
| --- | --- | --- |
| Business Excellence Award Ticket - Member Discount Rate | Oct 28, 2019 | $150.00 |
| Business Excellence Award Ticket - Regular Rate | Oct 28, 2019 | $170.00 |
| Business Excellence Awards - Table of 10 | Oct 28, 2019 | $1,650.00 |
| Business Excellence Awards - Table of 8 | Oct 28, 2019 | $1,350.00 |