Event Links
Contact Info
Kelowna Chamber of Commerce

Delta Grand Okanagan Resort
1310 Water Street
Kelowna, BC V1Y 9P3
Mayor Colin Basran is our guest speaker on April 3rd providing our annual State-of-the-City address to members and guests about the past year's achievements and challenges and look ahead to where Council will be focused in 2019. Audience members are certain to come away from the presentation with new information about city operations and its vision for a safe, vibrant and sustainable city.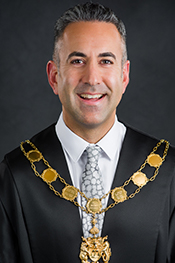 Prior to the City Address, the Kelowna Chamber of Commerce will be hosting it's AGM. This Special General Meeting is free to attend for all members in good standing of the Kelowna Chamber of Commerce.
All voting members will be issued a voting card at registration. Registration opens at 11:15 am and the Special General Meeting begins as 11:30 am. Special seating will be set aside for members who wish to attend the meeting, but who have not registered for lunch.
Pre-registration for the Special General Meeting only is not required.
Itinerary:
11:15 a.m. - 11:30 a.m. Registration
11:30 a.m. - 12:00 p.m. AGM and Check-In
12:00 p.m. - 12:15 p.m. Introductions
12:15 p.m. - 12:45 p.m. Lunch
12:45 p.m. - 1:30 p.m. State-of-the-City Address