Beyond the Startline Featuring Yeti Farm Creative
Uncategorized June 27, 2019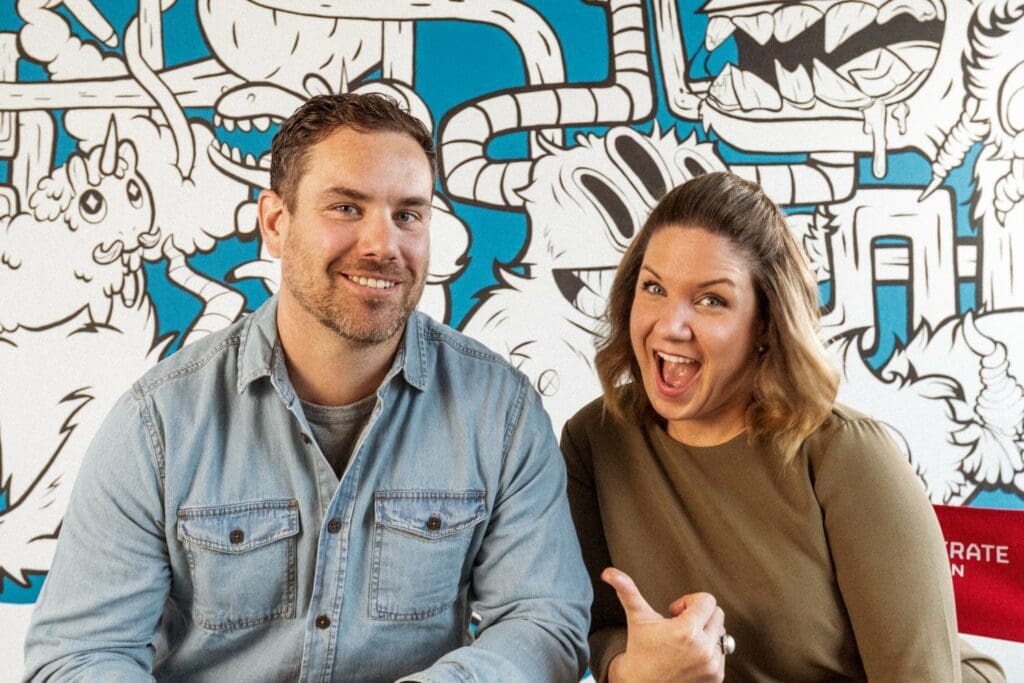 #OKGNTECH SUCCESS
Beyond the Startline
FEATURING ASHLEY & TODD RAMSAY, 
FOUNDERS, YETI FARM
In this series, we look at local entrepreneurs with growth-stage companies who are finding success in a competitive global economy.
Yeti Farm is a Kelowna-based animation studio with headquarters in Kelowna, BC. Yeti has all the makings of a classic startup story. The company was born in a basement back in 2007 with little-to-no resources. Ashley and Todd knew the risk associated with starting their own business but they also knew they wanted a better life for their young and growing family. Its beginnings may have been humble but Yeti Farm has come a long way since 2007. In the last ten Yeti has hired over 100 animators and supporting staff, produced shows for networks like Netflix, Amazon, and Nickelodeon, and created their own kids TV shows and franchises.
Although Yeti was technically founded in Port Moody, Todd and Ashley would be the first to tell you that things didn't really get started until they moved back to Kelowna. Todd was working as a freelance animator. He was busy but found he was constantly being pulled away from the creative work to deal with the production side of things. It wasn't until Ashley left her job in 2012 and took on the production side that Yeti Farm really started to boom. By September 2013 Yeti had a small studio space, several animators, and contracts for shows like Rocket Monkeys and Beat Bugs with Netflix.
"Our vision for Yeti Farm was always about something more than just an animation studio. We took the leap because we wanted to create learning opportunities and jobs right here in the Okanagan"
Ashley and Todd joined Accelerate Okanagan's RevUP program because they wanted support with some tough growth-related issues. Yeti Farm was scaling fast. They had signed an output deal with another agency, they needed a bigger studio space, more staff, and even equipment. "We had grown so much so quickly and our business changed so drastically under the hood" said Ashley. "I knew I needed some coaching on how to structure the financials and handle our growing operation".
Ashley and Todd worked with two mentors from the Accelerate Okanagan team. They met every couple of weeks and helped to untangle issues around legal, finance, and long term planning. "Working with a mentor gave me the opportunity to step out of my business and work on my business in a really focused way" Ashley continues. "That coaching really made me feel like I wasn't alone and provided me with the support I needed during a very important stage of our growth."
Yeti Farm has not stopped growing and Ashley will be the first to admit that they continue to face challenges in how and when to scale. "When I look back at some of the issues we were facing five years ago I realize we are still dealing with those, just on a whole different scale. Partnerships, investment, strategic joint ventures, leveling up—they are the same issues but now I feel so much more empowered and ready to take them on".
Yeti has big plans for the future and there is no sign of slowing growth. The studio is now home to over 100 animators and support staff working on projects that reach international markets. "Yeti Farm has become a worldwide brand and we are really proud of that'" says Todd. "'The service work we do is awesome and it keeps the lights on but for me, the biggest passion is creating our own shows, and bringing our biggest ideas to life that gets me really excited".
Ashley and Todd aren't just building a company, they are building a legacy. "We want our kids to grow up and look back and think "Wow! Mom and Dad built that and it's even bigger and more successful than they could have imagined".
"Meeting with skilled mentors on a regular basis made me feel like I wasn't alone during a very important stage of our growth for Yeti Farm."
"As an entrepreneur it can be hard to remember that finding the balance and getting outside once and awhile is really important too."
Want to learn more about the Ramsay's and the Yeti Farm Team? We recently caught up with Ashley and Todd to get the skinny on what drives them to create, how they cope with high growth, and why they chose to call the Okanagan home.
Read the full Q+A and watch the video on the Accelerate Okanagan blog.
You Might Also Like...
---