BCCAI Knowledge Café
November 22 @ 8:00 am

-

11:30 am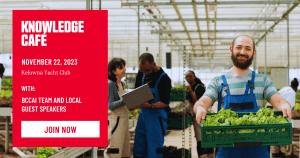 Join us in Kelowna on November 22 for our Knowledge Café event!
The event will be led by B.C. Centre for Agritech Innovation (BCCAI) Scientific Director, Professor Woo Soo Kim; Peter Simonsen, President of B.C. Fruit Growers' Association; Jazz Pabla, City of Kelowna's Director of Information Services; and Susan Murch, Professor, Biochemistry and Molecular Biology at the University of British Columbia Okanagan (UBCO) as well as members of the BCCAI team.
We will tackle crucial topics like the impact of climate change on agriculture and food security, and learn about BCCAI funding opportunities and our unique business ecosystem. Together, we will explore the immense possibilities and challenges within British Columbia's agritech sector. Engage in thought-provoking discussions on driving the adoption of innovative technologies among agri-food producers and delve into the vital policies and financial support systems required for success. Immerse yourself in the forefront of agricultural research and advancements; gain firsthand knowledge on the groundbreaking work that is shaping the industry.
Following the event, select attendees* will have the opportunity to tour the Plant Growth Facility and FiLTER lab at the University of British Columbia's Okanagan campus. Make sure you express your interest in joining the tour when you register using the link!
*Spaces for the UBCO Lab Tour are limited and are available on a first-come, first-served basis.
About the BCCAI Knowledge Café:
Date: November 22, 2023
Time: 08:00 to 11:30
Location: Kelowna Yacht Club, 1370 Water St #1, Kelowna, BC V1Y 1J1
Program schedule:
08:00 – 08:30 – Breakfast and registration
08:30 – 09:30 – Welcome ceremony and panel of discussion: Climate change and food security: How tech solutions can help with adaptation and mitigation
09:30 – 09:40 – Break
09:40 – 11:30 – Roundtable discussion and closing
About the UBCO Lab Tour:
Time: 14:00 – 15:30
Location: The University of British Columbia – Okanagan
About BCCAI 
Supporting SMEs in B.C., the B.C. Centre for Agritech Innovation (BCCAI) is a Simon Fraser University initiative that aims to develop more productive, diverse and resilient food supply chains. In collaboration with government partners, agritech stakeholders, industry partners, agri-producers and post-secondary institutions, BCCAI focuses on the development, testing and piloting of agritech solutions in both simulated and real-world environments, ensuring they are ready for commercialization and practical implementation on farms. Funded by Pacific Economic Development Canada and the Province of B.C., BCCAI is strategically-positioned to elevate B.C. as a frontrunner in agritech advancements.
More information about BCCAI: https://www.sfu.ca/agritech-innovation