Kelowna Free Graze Lamb – Young Farmers Look to the Future
Uncategorized March 15, 2019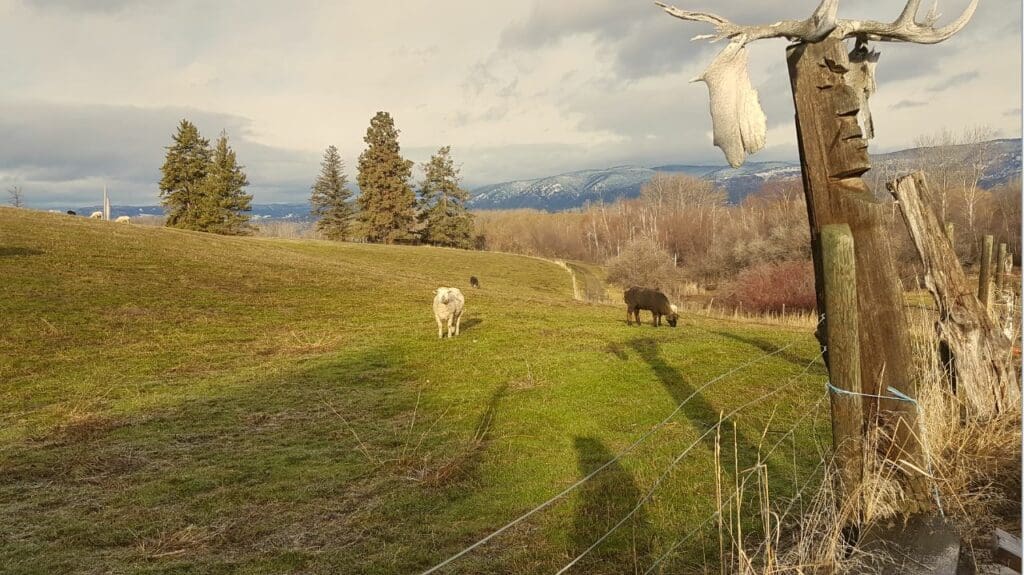 Kevin Morin and his partner Cecilia Hogan operate Kelowna Free Graze Lamb, one of the newest and most unique farms in the Central Okanagan. They're part of a group working to re-invent a former Kelowna sheep farm containing a Class-A abattoir for goats and sheep as a cooperative farm. The owner of the 37-acres of land, Sue Haley, operated it as Ceres Circle Farm but donated the land for an agriculture land trust when she retired.
While the transition will take some time, a first step was finding the first resident farmers. In fall 2017, Morin and Hogan answered an ad to work the gently rolling property bordering Mission Creek.
Morin, originally from Quebec, has a culinary degree from Le Cordon Bleu Ottawa Culinary Arts Institute. Hogan was working on a local farm while attending UBC Okanagan as a nursing student. Morin says he has lots of university training and plenty of experience working in market gardens across Canada, but sheep farming is new.
"We'd like to continue the life's work of the past operator and raise lamb naturally on pasture, using a rotational grazing system that makes use of the existing infrastructure of fencing," Morin explains saying they are producing lamb, wool, hides, and also do custom abattoir work.
He's gaining necessary skills working part-time at a local butcher, L&D Meats and Deli.
"We have a flock of sheep but it's going to be a challenge to make a living off sheep, so we're seeing ourselves more as providing abattoir services and there's potential to do a lot of value-added with meat, in addition to the pre-ordered lamb."
Like a seasoned livestock producer, Morin proudly shows off the animals. Kelowna's mild climate means they only come inside during the coldest, wettest days. He recently acquired a sheep watchdog to protect the livestock and the flock size is increasing with the birth of new animals this spring.
Like most new ventures, finances are never far from mind but creativity helped. Late in 2017, they set up a crowd-funding campaign to raise $7,000 to support the purchase their flock of 21 sheep. Three weeks ahead of their deadline, 52 backers had pledged nearly $7,600 to help purchase the flock and some feed.
"It isn't a conventional model of farming," says Morin, "particularly in this area where there are so many multi-generational, old farm properties. But people have been great, including the neighbouring farms. They seem to want to help us which has us feeling quite grateful."
Written by: Myrna Stark Leader, COEDC Agriculture Specialist
agriculture@investkelowna.com
You Might Also Like...
---