Meet the COEDC – Noel Wentworth
Meet the COEDC July 14, 2022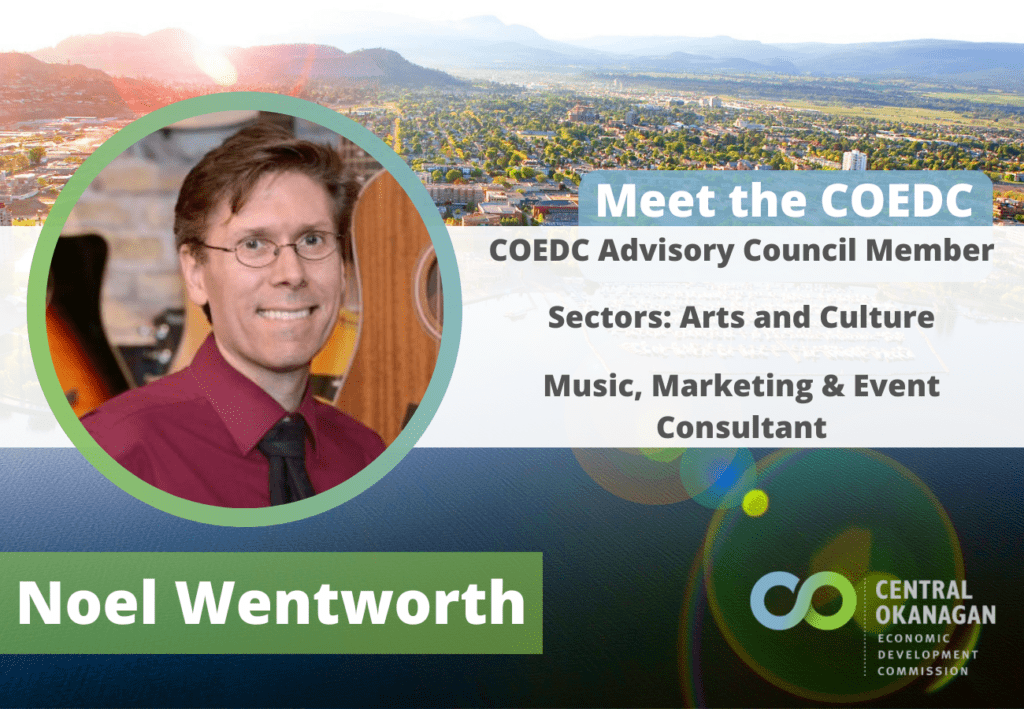 Editors Intro:
For those who may not know, the COEDC Advisory Council is a conduit of information between business, community leaders and government. The council meets monthly to share information and work together towards sustainable economic growth. It is made up of 45 influential members consisting of industry leaders, community shapers and elected officials. One of these such members being Noel Wentworth!
The aim of the Meet the COEDC campaign is to share with our community who the Economic Development Commission is and showcase the COEDC Advisory Council members who play critical role guiding the regional economic development service.
Noel is a self-employed music, marketing and event consultant. He is also an accomplished singer and songwriter, music teacher and former Vice President of Education and Media at Wentworth Music in Kelowna! Under Noel's leadership, the Wentworth Music Education Centre created an amazing initiative, performing the largest student rock production in Canada twice a year. All proceeds from the concerts are donated to help children in their community with over $268,000 donated to the Kelowna General Hospital to date.
Along with being a valued member of the Advisory Council, Noel is a valued member of the community with an extensive list of accolades including but not limited to being voted top 50 in Canada to help children by Shaw (2017), and winner of the 2015 Kelowna Civic award.
Continue reading to learn more about Noel's outlook on industry specific trends and forecasts for the Central Okanagan! And check in each Monday to meet a new member of the Advisory Council, and to learn why they love to live and work in the Central Okanagan!
What organization are you from and what is your role?
I am currently a self employed, music, marketing andevent consultant.
What excites you about the future of your respective sector?
I am most excited about the use of technology for marketing and events to be able to reach more people than ever.
Why is participating in the Advisory Council important to you?
Participating in the Advisory Council is important to me as it provides me with the opportunity to learn about other businesses and our collective ecosystem of business culture in the Central Okanagan.
Why do love living and working in the Okanagan?
I was born and raised in Kelowna and love working and living in the place where many come to vacation.
Follow Noel on LinkedIn here! And checkout his website here!
You Might Also Like...
---