Meet the COEDC – Shauna Harper
Meet the COEDC February 2, 2023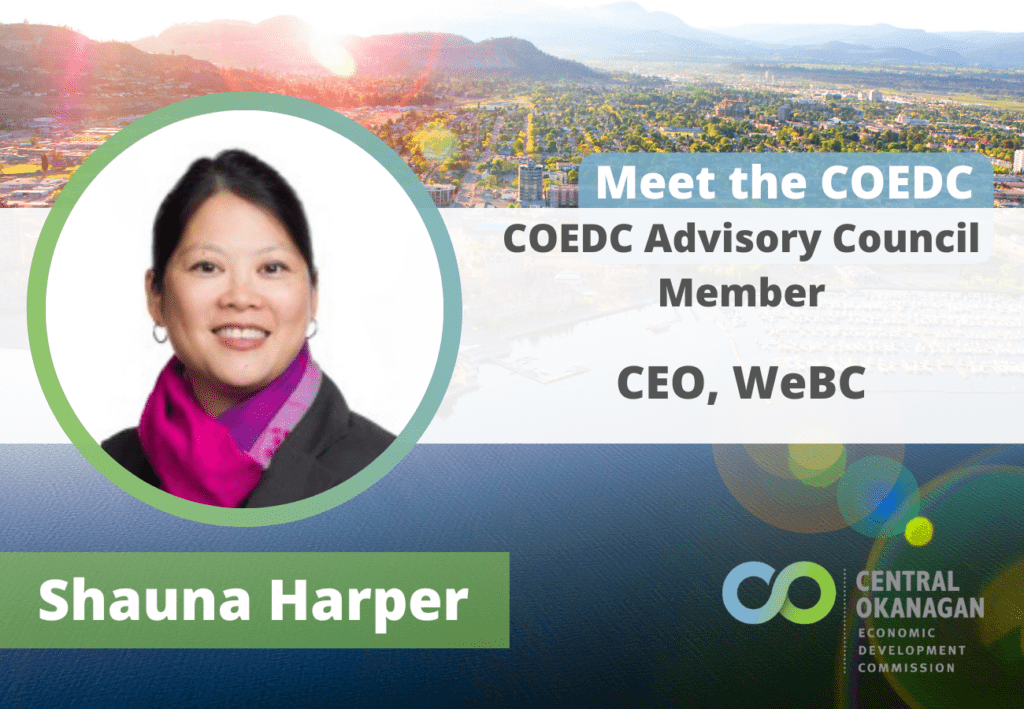 Editors Intro:
The aim of the Meet the COEDC campaign is to share with our community who the Economic Development Commission is and highlight the COEDC Advisory Council members who play a critical role guiding the regional economic development service.
The COEDC Advisory Council is a conduit of information between business, community leaders and government. The council meets monthly to share information and work together towards sustainable economic growth. It is made up of forty-five influential members consisting of industry leaders, community shapers and elected officials. One of these such members being Shauna Harper!
Shauna Harper is the CEO of WeBC, based in the Kelowna office. As a federally funded not-for-profit organization, WeBC provides thousands of women entrepreneurs across BC with business loans, expertise, training, resources, and peer support to help their businesses grow and thrive each year.
Prior to coming to WeBC, Shauna was an entrepreneur for 22 years. She owned a manufacturing company that created and sold inspirational glass stone magnets globally, and a marketing and communications company that helped small businesses and not-for-profit organizations by offering marketing strategies, project management, team support, and marketing training.
In 2015, Shauna was the co-facilitator of the regional Catalyst for Growth dialogues that actively explored how to support economic growth through women and create a greater impact by growing the number of women in senior leadership roles, trades, emerging sectors, and as entrepreneurs. She was also a facilitator for portions of the BC Economic Forum (2015) and the We for She Conference (2016).
Shauna has been recognized for her leadership and impact. She was named a Woman of Influence by BC Business Magazine; and Business Person of the Year and Top 40 Under 40 by the Prince George Chamber of Commerce. She was on the BC Premier's Women's Economic Council as an advisor from 2014-2017, and an advisor on the Government of Canada's Women's Entrepreneurship Strategy in 2019.
Continue reading to learn more about Shauna's outlook on industry specific trends and forecasts for the Central Okanagan.
What organization are you from and what is your role?
I am the CEO of WeBC (Formerly known as Women's Enterprise Centre).
As a federally funded not-for-profit organization, WeBC provides women entrepreneurs across BC with business loans and expertise, training, resources, and peer support to help their businesses grow and thrive each year. Our head office is in Kelowna.
What excites you about the future of your respective sector?
I am excited to continue to find ways to help women entrepreneurs grow their businesses both in the Okanagan and across BC. Recently, we announced that WeBC is supporting women business owners to access the Women's Enterprise Organizations of Canada (WEOC) National Loan Program. This unsecured loan program is funded by the federal government and is set to distribute over $30 million in loans of up to $50,000 to hundreds of women and non-binary entrepreneurs to reduce financing barriers and provide them with better access to capital so they can start, grow and maintain their businesses.
Why is participating in the Advisory Council important to you?
It is important to have different people, businesses, and organizations who bring diverse perspectives, lived experiences, and knowledge from our community to the table. Participating is important to me as it is about collaborating and working together to continue to develop opportunities for our region.
Why do you love living and working in the Okanagan?
My family moved to Kelowna in June 2022 after starting this new role in April of this year. Although we have not been here very long, we have loved getting to know our new community and often pinch ourselves that we actually get to live here.  Whether it is hiking Knox Mountain, swimming/kayaking at the beach after work, or biking the Kettle Valley Trail, there is never a shortage of things to do.
But above the things to do, it has really been the people that have made this feel like home. The bar was high coming from Northern BC as I did not think I would find a sense of belonging so quickly. It started almost on day one with neighbours coming over to introduce themselves when we first arrived, to strangers cheering me on when they saw me struggling on the last few steps of Knox Mountain, or the parents of the newly made friends of my kids saying welcome to our community. Over and over again we have been welcomed and already feel an incredible sense of belonging.
Being only a few hours from the Lower Mainland means I am close enough not to miss any important work-related meetings, but I can also lead an organization that is doing meaningful impact work across the province from the beautiful Okanagan. I look forward to planting even deeper roots here, raising our family and contributing to the community.
Learn more about WeBC here!
You Might Also Like...
---