Allied Universal Hiring Event
August 15 @ 10:00 am

-

3:00 pm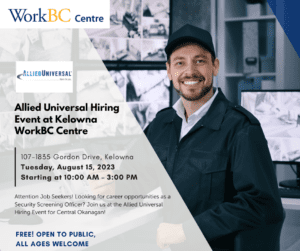 WorkBC Central Okanagan will be hosting a single employer hiring event with Allied Universal Security Services at our Capri Centre on Tuesday August 15th from 10:00 AM to 3 PM.
The event will be to promote their Airport Screening Officer opportunities at the Kelowna International Airport. They are searching for part-time and full-time Screening Officers and Bilingual Screening Officers that speak French and English. Job seekers must be 18 years of age or older and must be a Canadian Citizen or PR. Please see the event flyer attached. Please see the full job description below.
$22.52 – $25.39 / hour
Wages are subject to increases yearly
Allied Universal is seeking a Screening Officer in Kelowna. As a member of the Allied Universal Aviation Team, you will have the distinct opportunity to learn and grow in a fast-paced environment. We understand the importance of this role and are looking for team members who want to safeguard their communities, while learning critical skills, beyond security, that will help them create long-lasting careers.
As a Screening Officer you will report to the Service Delivery Manager and hold responsibility for ensuring that the traveling public, their personal belongings, and the carry-on baggage and items they have with them are screened before they enter the sterile area of the airport. This will be accomplished by using metal detection equipment, X-ray equipment, and explosive detection equipment, as well as physical search techniques to search baggage, items, and personal belongings.
As this is a unionized 24/7 environment, shift assignments are bid by seniority and can be any day of the week (including Saturday, Sunday, and holidays) and shifts can be from early morning, late afternoon, evening, and graveyard.
NOTE: If you are successful in our pre-screening process, you will be required to apply for a Transport Canada Security Clearance and once acquired, you will then need to successfully complete the Screening Officer Foundations (SOF) course during paid training.
RESPONSIBILITIES:
Work as a productive team member; supporting and promoting a positive work environment
Communicate clearly and effectively
Manage conflict
QUALIFICATIONS:
High school diploma or equivalent
Must be able to obtain a Transport Canada Security Clearance
Must be able to successfully complete all CATSA assessments including Screening Officer Foundations (SOF) and On-the-Job (OJT) programs.
Must be able to obtain a valid medical certificate
If previously employed, meaningful and verifiable work history
Licensing requirements are subject to province and/or local laws and regulations and may be required prior to employment
Job Seekers can view the job description and apply online