Building Intellectual Property Skills | Startup Global
April 13 @ 10:00 am

-

11:00 am
​​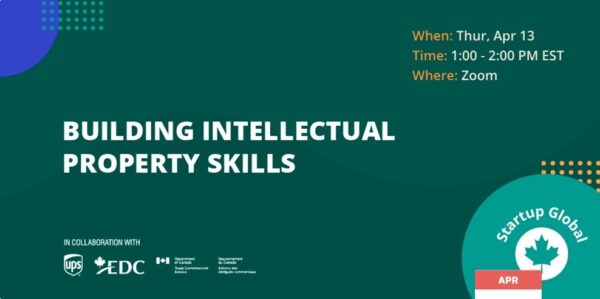 This is the second of four webinars Startup Canada will host, as part of the Startup Global 2023 program. These webinars will walk you through the tools and resources you need to get your business export ready. Each webinar will provide you with the opportunity to connect with industry leaders and organizations and build foundational relationships for entering new markets!
​​ABOUT
This webinar will explore the importance of intellectual property rights in international trade and exporting. Participants will assess the nature and scope of intellectual property rights and look at the relationship between intellectual property rights and innovation.
​​EVENT DETAILS
Thursday, April 13, 2023
1 – 2 PM EST | 2 – 3 PM AST (please verify your time zone)
​​SPEAKERS
TBC
​​WHO IS THIS WEBINAR FOR?
Early-stage entrepreneurs who want to better understand intellectual property rights and how it can help protect their businesses when they scale their business abroad.
​​PARTNERS
The Startup Global program is powered by Startup Canada, co-presented by UPS, Export Development Canad