Special Luncheon and Conversation with BC Finance Minister
April 13 @ 8:00 am

-

5:00 pm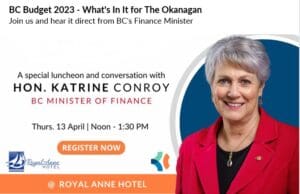 The Hon. Katrine Conroy, Minister of Finance & MLA Kootenay West will present BC's Budget 2023 at lunchtime, Thursday April 13 at the Royal Anne Hotel. Minister Conroy will give a presentation immediately following a buffet lunch and will take questions from the audience.
This is your chance to engage with a senior member of government face to face, and get your questions answered.
About the Speaker:
Hon. Katrine Conroy, Minister of Finace & MLA Kootenay West
Katrine Conroy has represented the West Kootenays as MLA since 2005. She is the Minister of Finance and the Minister Responsible for the Columbia Basin Trust, Columbia Power Corporation and the Columbia River Treaty.
She previously served as the Minister of Forests and Minister of Children and Family Development. Katrine had a varied career before becoming a MLA and was one of BC's first female power engineers, an early childhood educator, Executive Director of a multi service non-profit agency, a college instructor, and a small business person. Together with her late husband Ed, Katrine raised four children and has nine grandchildren and, for 42 years,  has lived on their ranch in Pass Creek.