Employment Services Info Session
September 28 @ 10:00 am

-

September 30 @ 11:00 am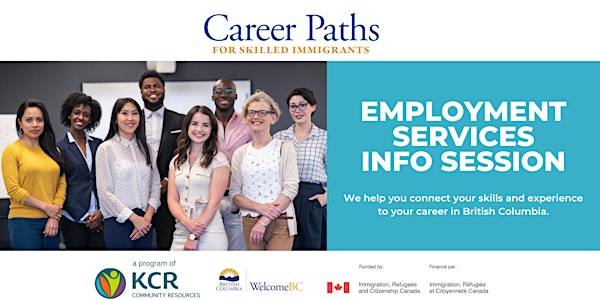 Struggling to find work in your field? Career Paths for Skilled Immigrants provides services to help you find skilled employment in BC that uses the education and experience that you bring to Canada.
You will gain insight about the employment services of KCR, and more specifically about the Career Paths Program for Skilled Immigrants. Attendees will find out about the criteria and eligibility for the program and what it can offer to qualified candidates. An overview of the types of professions that the program supports will be introduced along with the industries in which professionals align with best in each of these streams will be discussed.
This workshop is for you if you are:
Permanent Residents (in the last 10 years)
Minimum 1- 2 years of prearrival experience in the desired occupation
Minimum CLB 5 for English Proficiency
REGISTER TODAY!
The Workshop is offered on zoom. Please register to receive the zoom link.
This event is hosted by the Career Paths for Skilled Immigrant Program at KCR Community Resources.
https://kcr.ca/employment-services/career-paths-for-skilled-immigrants/