Kelowna Chamber of Commerce – Quarterly Membership Breakfast
June 29 @ 7:30 am

-

9:00 am
Join us for our Quarterly Membership Meeting on June 29 as the Board Committee Chairs provide an update of their committee's progress to-date. This initiative is meant to provide another opportunity for members to engage directly with their elected Board of Directors. Participants in this in-person event will get a better sense of the work their Chamber is doing to help businesses. It will also introduce you to some of the Directors who are playing a leadership role in shaping the future of our region's economic development. The Chamber's June QGM will also provide an opportunity for members to gain insights into the activities of the Board and it's various committees.  Each committee chair will provide a short update and an operational update will also be shared with those attending.  The QGM is open to everyone though members do receive a member discount to attend.
In addition to an update from the Chair of the Board, Dan Price, this in-person session will also include updates from the various board committees. Following the update, City's Community Safety Director, Darren Caul will outline what action the City is undertaking to make things better. Kelowna City Council has identified Crime & Safety as one of their top priority areas in their recently-released Council Priorities. Learn more about the City's efforts and priority actions from increasing residents' sense of safety and decreasing business break and enters and thefts to advocating for systemic change through increased complex care housing and responses to repeat property offenders.
---
Guest Speaker: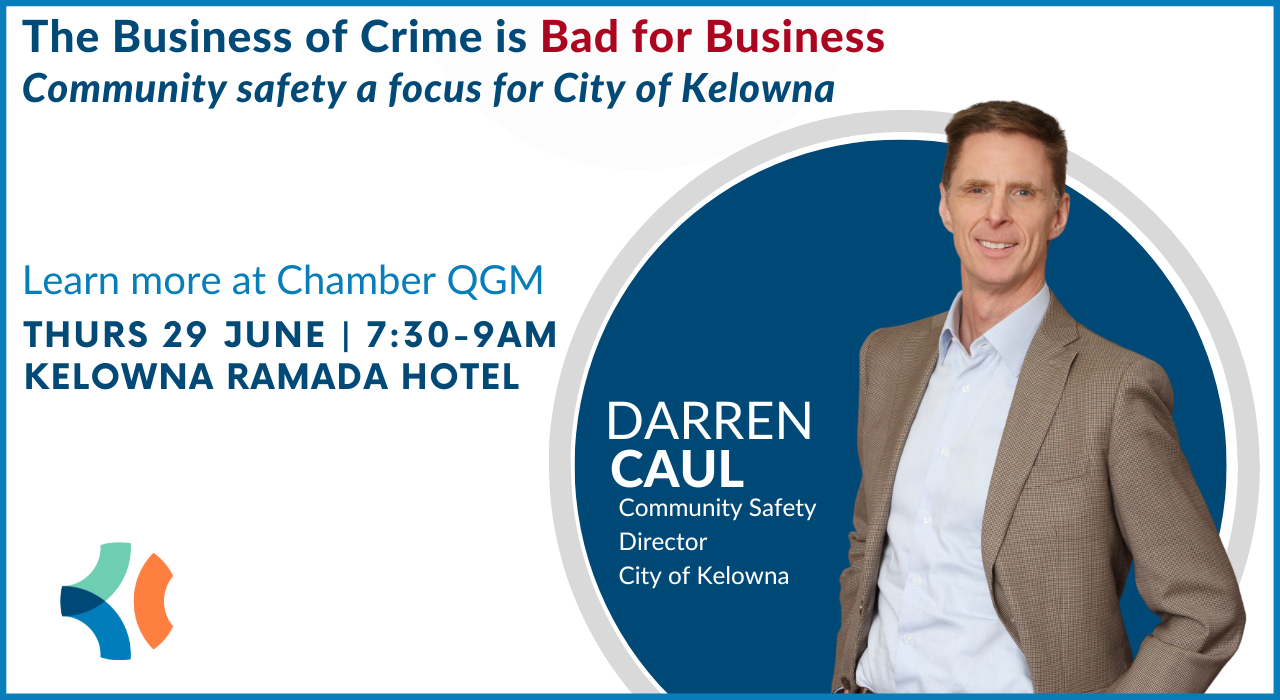 Darren Caul, Community Safety Director- City of Kelowna
With more than 30 years' career experience, Darren has worked and volunteered across the public safety spectrum including victim services, community crime prevention, gang reduction, corrections, parole, and police governance. In the early 1990s, Darren started his career as a correctional officer and a crime prevention coordinator in RCMP detachments before joining Public Safety Canada. There, he worked in senior manager roles at the National Crime Prevention Centre and Parole Board of Canada for 12 years. This was followed by nearly a decade with the Alberta Government where he served as the Justice Department's Director of Gang Reduction before being promoted to the role of Executive Director. Amidst his career, Darren was a Member of the Calgary Police Commission, founding Director of the Alberta Association of Police Governance, and an honorary member of the Alberta Association of Chiefs of Police.
In his current position as Kelowna's Community Safety Director and the City's RCMP Liaison, he oversees 150 staff in Bylaw Services, Crime Prevention and Police Services and is responsible for RCMP contract oversight.
Born and raised in BC, Darren has a Bachelor of Arts in Criminology from Simon Fraser University. In 2009, he earned a Master of Arts in Criminal Justice and received the Governor General's Gold Medal for outstanding graduate level achievement. Darren has been a sessional instructor of criminology at Calgary and Edmonton-based universities. He is married, a proud father of two teen-aged boys, and an accomplished endurance athlete having raced 15 marathons, six Ironmans and, most recently, the half Ironman World Championship.    
---
A reminder to members, there will be voting on a few business items. Only members in good standing are eligible to vote. All members are elgible to attend but if you are interested in joining us for breakfast you must register in advance.
Purchase deadline: Tickets MUST be purchased before 4 pm on Friday, June 17th.
Cancellation Policy: Cancellations must be received 4 business days prior to the event to be subject for a refund.