Okanagan College's Research Innovation and Partnership Expo 2023: Food for Thought
May 2 @ 8:00 am

-

3:00 pm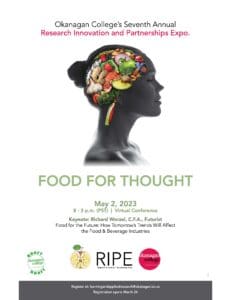 Are you hungry for knowledge and innovation in the field of applied research? Do you want to learn from experts and peers who are tackling some of the most pressing challenges and opportunities in our society? If so, you won't want to miss the 7th annual Research Innovation Partnerships Expo hosted by Learning and Applied Research virtually on Tuesday, May 2, 2023.
Join us for an insightful and engaging keynote by Richard Worzel, C.F.A., Canada's leading futurist and innovation specialist. Richard has helped hundreds of organizations across various sectors to anticipate and adapt to the future, including Coca-Cola, Microsoft, Lexus, IBM, and many more. He is also a best-selling author of several books on the future, such as The Next 20 Years of Your Life and Doomsday: Plus or Minus. In this presentation, Richard will explore the theme of Food for the Future: How Tomorrow's Trends Will Affect the Food & Beverage Industries.
This year's theme is Food for Thought, and it will feature presentations from institutions across Canada on topics ranging from food security, sustainability, health, education, technology, and more. You will hear from speakers who have embarked on remarkable journeys, such as Jeremy St. Onge from Canadore College who ate only wild foods for an entire year as part of his "Big Wild Year" project, Dr. Gutica who is building advanced learning technologies for improving female participation in STEM, and Dr. Martinez who is finding new ways to make use of old fishing nets by re-purposing them into 3D printing filament as part of the NetGain project. You will also have the opportunity to interact with student researchers who are showcasing their work and achievements in various fields.
The Research Innovation Partnerships Expo is more than just a conference. It is a platform for collaboration, inspiration, and engagement among researchers, educators, industry partners, and community members who share a common passion for applied research and innovation. Whether you are a seasoned researcher or a curious learner, you will find something to feed your mind and soul at this event.
Don't miss this chance to join the conversation and be part of the research innovation community. Register today and get ready for a feast of Food for Thought!
The link to register is now open: RIPE | Okanagan College