Speaker Series – Housing in the Okanagan
September 28 @ 12:00 pm

-

1:30 pm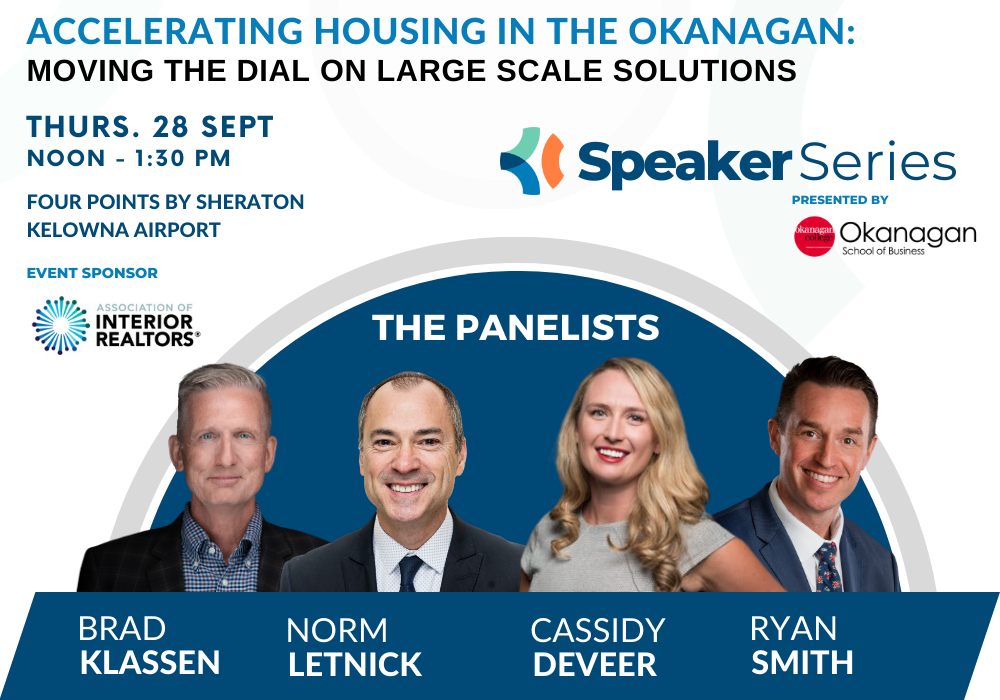 Join us on Thursday, September 28 as we hear from some local professionals n the current state of housing in this fastest growing CMA in Canada where demand is far outstripping supply. Our three speakers will cover new options for purchasing (YeYe Housing Society/MLA Norm Letnick); Ryan Smith, Divisional Director of Planning and Development Services at City of Kelowna; Brad Klassen, Co-CEO Troika Management Corp.
This powerful combination of information, including updates on recent funding to the City of Kelowna for housing from the province will be moderated by another specialist in the local Kelowna market, Cassidy deVeer, Owner/Operator 3rd Generation Homes.
We all know there is no magic wand that any one of us can wave over the enormously complicated issue of providing adequate housing at a cost affordable to our young workforce, the swelling immigrant population, and those residents already housed, but wanting to change from rental to ownership or vice versa – and housing is extricably tied to labour issues, especially as the Okanagan explodes as a desirable centre for work and permanent residency.
Attendees will learn some new information, and have the opportunity to ask the panelists specific questions.
---
Panelists
Cassidy DeVeer, Owner/Operator at 3rd Generation Homes
Cassidy deVeer, a Kelowna native, is the driving force behind 3rd Generation Homes. Established in 2010, 3rd Generation Homes builds single-family custom and spec homes, as well as townhomes and multiplexes. Beyond the construction business, Cassidy has volunteered with the Canadian Home Builders Association (CHBA), including becoming the first female president of the Central Okanagan before eventually moving on to become the President of CHBA BC. During this period, she actively participated in a number of stakeholder engagement sessions with the provincial government and held meetings with Premier David Eby when he served as Minister of Housing, current Minister of Housing Ravi Kahlon, and the new Federal Minister of Housing Sean Fraser. Cassidy has been a long-time advocate for home ownership and endeavors to enhance its accessibility for all Canadians.
Brad Klassen, CFO and Co-CEO at Troika Management Corp.
Brad is the CFO and Co-CEO of Troika Management Corp, a leader in the construction and development industry in Kelowna and across Western Canada. Born and raised in Vancouver, BC, Brad graduated from UBC in 1986 and moved to Kelowna in 1988. Joining Troika in 2005, Brad oversees the accounting and financing functions of the Troika Group as well as directing the Senior Leadership Team in strategic planning and development. Community involvement has included Kelowna Sunrise Rotary, Kelowna Yacht Club, Central Okanagan Economic Development Commission, and Kelowna's Gospel Mission.
Norm Letnick, MLA Kelowna – Lake Country
Norm Letnick was re-elected to a fourth term as MLA for Kelowna-Lake Country in 2020. He currently serves on numerous Select Standing Committees. Letnick has served on the Banff Housing Corporation which successfully built over 200 non-profit homes and the Kelowna Affordable Housing Task Force. He is the president of the YeYe Housing Society dedicated to building quality entry level housing for first time home buyers at approximately 25% below market price. Letnick holds a Bachelor of Commerce with Rhodes Scholarship nomination from the University of Calgary, a Master of Business Administration from Edinburgh's Heriot-Watt University and achieved candidacy status for a PhD. in Health Economics from the University of British Columbia.
Ryan Smith,  Divisional Director of Planning and Development Services at City of Kelowna
Ryan has worked with the City of Kelowna for 19 years, first as a development planner, then Subdivision Approving Officer, Urban Planning Manager, Department Manager of Community Planning and now Divisional Director of Planning and Development Services. Ryan has also spent time working for a private real estate development company where he collaborated on the development of townhouse and resort projects. Ryan has a Bachelor's degree in Geography and Certificates in Urban Design and Community Economic Development from Simon Fraser University and is a member of the Canadian Institute of Planners. He has been a member of the provincial Subdivision Approving Officer's Committee since 2010 and Co-Chair of this committee since 2016. He was instrumental in the development of the School for Subdivision Approving Officers and has been helping teach Subdivision since 2010. Ryan also helps teach modules as part of the MATI Community Planning Course and Capilano University Courses and is an avid cyclist, trail runner and skier.
---
Registration opens at 11:30AM with the event to begin at Noon.
Purchase Deadline: Tickets MUST be purchased before NOON on Friday, September 22.
Cancellation Policy: Cancellations must be received 5 business days prior to the event to be subject for a refund.
| Event Item Name | Expires | Pricing |
| --- | --- | --- |
| Regular Ticket | Sep 28, 2023 | $67.00 |
| Member Discounted Rate | Sep 28, 2023 | $52.00 |
| Electronic Luncheon Voucher (Membership Benefit) | Sep 28, 2023 | $52.00 |