Virtual FCC Women Entrepreneurs Summit
March 8 @ 1:00 pm

-

3:00 pm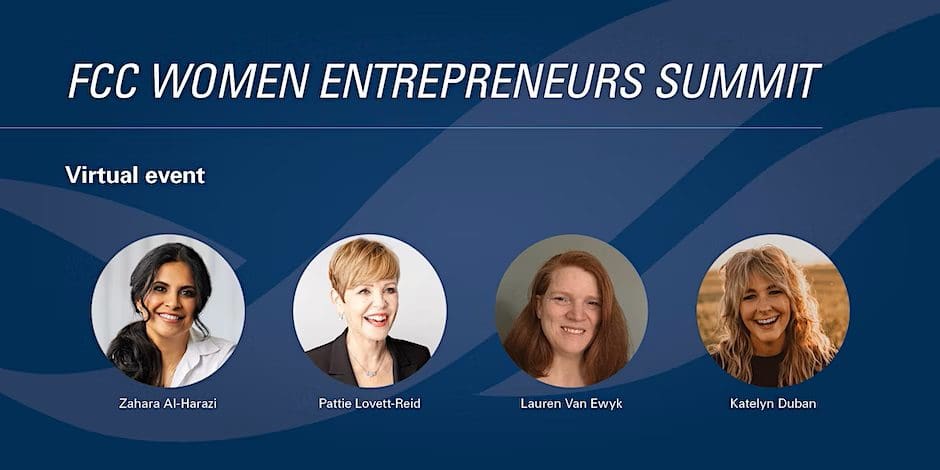 Join us for the FCC Women Entrepreneurs Summit virtual event. Gain insights to boost your leadership skills, connect and build personal and professional growth.
This year's speakers will inspire you to think differently about managing your finances and building resiliency in your business and everyday life.
Wednesday, March 8, 2023
10 – a.m. PST 
Find the event time for your area.  
St. Johns (Nfld.) | 2:30 p.m.  NST
Halifax (Atlantic) | 2 p.m. AST
Ottawa (Eastern) | 1 p.m.   EST
Winnipeg (Central) | 12 p.m. CST
Regina (Central) | 12 p.m. CST
Edmonton (Mountain) | 11 a.m. MST
Vancouver (Pacific) | 10 a.m. PST
This event will be recorded and available to registrants only for a limited time. 
Register here
Agenda
10:00 am – Welcome – Katelyn Duban
10:05 am – The Power of Purpose – Zahara Al-Harazi
10:35 am – Women in Ag: Our blood, sweat, and tears too– Lauren Van Ewyk
11:15 am – You don't need to be a millionaire to have millionaire mentality – Pattie Lovett-Reid
11:55 am – Wrap up – Katelyn Duban
Featured speakers:
Zahara Al-Harazi, Entrepreneur, Leadership Expert
The Power of Purpose
Your brand reflects your organization's culture, and that culture reflects your purpose, daily habits and values. Leadership expert Zahra Al-Harazi will share how the key to building great companies lies in enabling learning, skills, opportunity and connection.
Pattie Lovett-Reid, Finance Expert, CTV News former Chief Financial Commentator
You Don't Need to be a Millionaire to have Millionaire Mentality
What do the rich do differently than the rest of us? Pattie will share nine strategies affluent individuals follow to build their wealth – and how the average person can begin to incorporate these strategies into their everyday financial plan.
Lauren Van Ewyk, Psychotherapist, Registered Social Worker, Mental Health Advocate, Sheep Farmer
Women in Ag: Our blood, sweat, and tears
How do we identify as women in ag? How can we step into this identity, embrace it, and champion it? Lauren will discuss self-care and some practical strategies to embrace wellness.
Lauren Van Ewyk is an engaging speaker, registered social worker, foster mom and mental health advocate. She has appeared in numerous radio, television and print articles concerning the issues of adoption, foster care, mental wellness and mental health in the agriculture sector.
She and her husband raise sheep in southwestern Ontario. She is a doctorate student, founding member, and CEO of the National Farmer Mental Health Alliance; Lauren seeks to meet the needs of farmers and their families across Canada and the US.
Katelyn Duban, Emcee, Podcaster
Katelyn Duban, born and raised in Southern Alberta, married into agriculture in 2016. At the time, it was not her intention to be an active member of the farm but quickly found a passion for farm life. In 2018, while working in the field found herself searching for a podcast that shared the stories of the importance of women in agriculture and wound up falling short. She began working on her own podcast and in the spring of 2019, she launched The Rural Woman Podcast.
Since then, she has interviewed many incredible women in agriculture doing amazing things in the field. With close to half a million downloads, Katelyn continues to share the importance of Women in Agriculture while sharing her own story through social media under the handle @WildRoseFarmer.