Young Professional Night Out: At The Opera
February 17 @ 6:45 pm

-

9:00 pm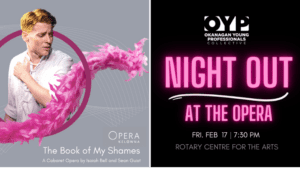 Check out the incredible art form of opera at this modern, original performance – join us for special night out with exclusive perks for those who attend as part of our group!
We've partnered with Opera Kelowna to offer a special night out at the The Book of My Shames on Friday, February 17. This performance combines rapid-fire monologues and personal confessions in a cabaret-style performance. It packs a great deal into 90-minutes: the work moves subtly between moments of monologue and music infused with honesty, pain, charm and humour.
Only 20 tickets available!
For OYP Registrants Only:
Hang out with a cool group of other young professionals
Discounted ticket price (5% off tickets)
Guaranteed entry to the post-show cocktail hour hosted by Friends of Dorothy
A free drink at cocktail hour! (must be 19+ and have i.d.)
About the Show
Charismatic Canadian tenor, writer, and composer Isaiah Bell guides the audience through the permutations of a life defined by what it's missing — or, as he calls it, 'The Story of a Hole'. Persistent emptiness of heart drives a young man out from the shadow of a restrictive fundamentalist community, into obsessive passions for bad men, and onward to a successful but strangely hollow life on the stage. The story is both intensely personal and a site for asking one of life's common, aching questions: How can we find meaning in existence when the goals keep shifting?
Isaiah's original score for voice and piano is complemented by violin, cello, and percussion ensemble.
Please note that this work deals with mature issues.
Schedule
6:45 p.m. (optional) Pre-Performance Talk will be presented by Rosemary Thomson, Music Director for Opera Kelowna
7:30 p.m. Performance starts and runs until roughly 9:00 pm
After that… Attendees are welcome to join us for a post-show cocktail hour hosted by the fabulous Friends of Dorothy lounge, in the RCA directly following the performance! (Space is first come first serve, except for OYP registrants – you're guaranteed a spot!
About OYP Collective
The Okanagan Young Professionals (OYP) Collective is a program of the Central Okanagan Economic Development Commission, and a hub of resources to help build community and create opportunities for young people. There's no membership and we don't sell anything (other than why it's so great to live here). All are welcome to join in (ie. we don't I.D.) to connect with other awesome young professionals in our community!
How to Register:
Click the link below to go to the ticketing page
Select your tickets
Use code YPNIGHTOUT to register as part of our group, get your discount and other perks!
Please note: by using this promo code you are agreeing to share your name and contact information with Opera Kelowna and Okanagan Young Professionals Collective. We will not use this information to spam you, but to contact you before the event with instructions of how to meet up with the group.