COEDC hosts agriculture and viticulture familiarization tour
OKGo October 17, 2023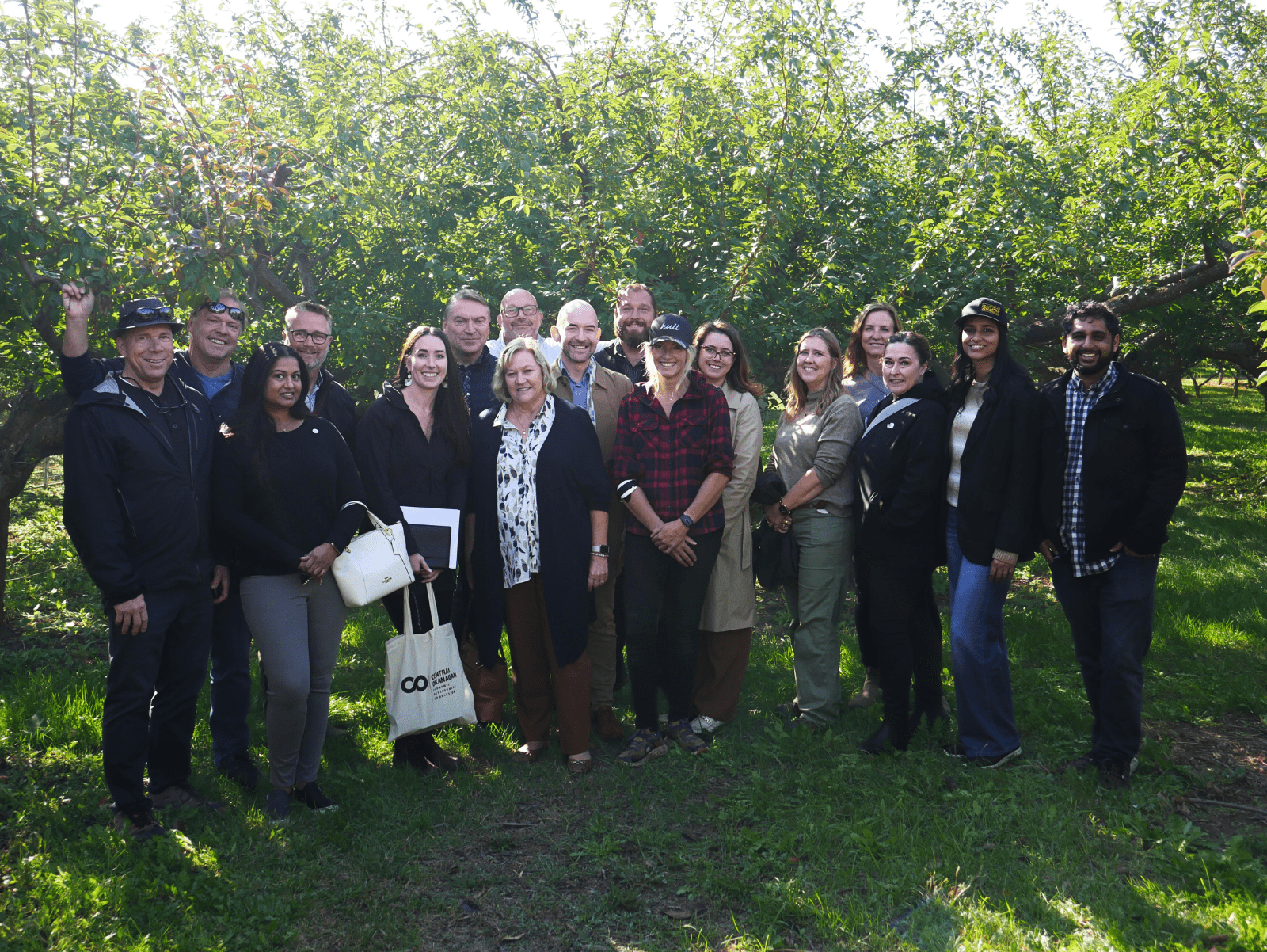 The Regional District of Central Okanagan's Economic Development Commission, in partnership with Tourism Kelowna, hosted RDCO board members, regional elected officials, community partners and economic development officers on an agriculture and viticulture industry familiarization tour on October 3, 2023.
Familiarization tours are a staple in the tourism and hospitality space and provide guests with firsthand experiences, immersing themselves in facilities and services so they can make informed decisions for their meetings, events or conferences. Building off the success of tourism familiarization tours, the OKGo team adapted the concept to have an industry-specific focus to connect regional elected officials and partners with industry leaders in agriculture and viticulture.
The purpose of the day was to provide a platform for industry leaders in the agriculture and viticulture sectors to share stories and information to deepen sector understanding for elected officials and partners. Providing a platform for regional elected officials, community support organizations and regional economic development staff to connect with industry is integral to ongoing support, advocacy and innovation.
"It was a privilege to connect with agriculture and viticulture leaders to learn about the opportunities and challenges that these industries are currently facing. In the wake of the devastating Grouse Complex wildfires and extreme weather, we know a collaborative approach will be key to recovery," says Loyal Wooldridge, Chair of the RDCO Board. "The wisdom and expertise shared has enriched our understanding to potential solutions to support these sectors and pave the way for sustainable economic resiliency."
Attendees began the day at the Regional District of Central Okanagan with a warm welcome from RDCO Board Chair Wooldridge. Lisanne Ballantyne, CEO of Tourism Kelowna and Krista Mallory, Manager of the RDCO EDC, then provided an economic update as it relates to tourism and hospitality as well as specific industry stats and trends for agriculture and viticulture sectors. Neil Fassina, President of Okanagan College, was also in attendance and shared an update about the future training programs for these sectors and the launch of the world class Okanagan College Centre for Food, Wine, and Tourism.
Attendees then visited Paynters Fruit Market in West Kelowna, welcomed by Jennay Oliver, owner of Paynters Fruit Market, and Avi and Binny Gill, owners of Farming Karma. The group toured the property as Jennay, Avi and Binny shared stories of the rich history of their farms, the evolution of their businesses, plans for the future and strategic initiatives to diversify operations. The tour also provided an opportunity for the business owners to share the challenges they face in an ever-changing industry, including environmental changes, labor and housing challenges and barriers to agri-tourism operations.
"Our family has been growing fruits in the Okanagan for 30+ years. Through Farming Karma sodas, we were able to innovate and diversify, which is essential for farmers in today's economic climate. Increasing volatility in weather patterns and crop returns is making it hard for small-scale farmers to sustain their operations. We need to create resiliency in the agriculture sector through collaborative effort from farmers, consumers, and all levels of government," says Binny Boparai-Gill, President and Co-Founder of Farming Karma Fruit Company.  "It is critical that farming is seen as a viable career option by the next generation in order to ensure long-term success of BC's agriculture sector."
The final stop of the day was Quails Gate Winery, where Tony Stewart, CEO of Stewart Family Estates hosted the viticulture update. Sharing similar sentiments to the agriculture industry leaders, extreme weather events have had significant impact on their operations. These hurdles, ranging from travel advisories to crop impacts, have been persistent since 2018. In the face of ongoing challenges, opportunities for innovation and growth arise with diversification.
"The key to fostering prosperous and sustainable growth in our region lies in building strong connections and understanding between industry leaders, elected officials and community partners. Through hosting a familiarization tour for regional elected officials and community partners, we aim to create a platform where the challenges and opportunities faced by the agriculture and viticulture sectors can be effectively shared. This sharing of knowledge will empower our elected officials and community partners to provide ongoing support and advocacy for these integral industries," says Krista Mallory, Manager of the Central Okanagan Economic Development Commission. "Furthermore, we are thrilled to highlight the significant contribution of the new Okanagan College Centre for Food, Wine, and Tourism in driving regional talent development. Together, we can harness the potential of this sector to fuel economic growth, cultivate a vibrant regional workforce, and position our region as a leading destination for agriculture and viticulture."
To learn more about the COEDC and what we do visit www.investkelowna.com.
You Might Also Like...
---