Connector Program – Connectee Q&A with Adam Kolisnyk
Connector April 12, 2021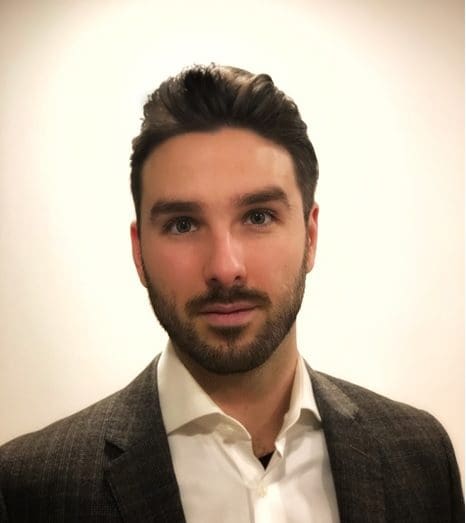 As a business consultant at Interior Health, Adam Kolisnyk's job is ever-changing. The accounting major and his wife were looking to settle down and achieve a better work-life balance when they moved to the Okanagan from Ontario. Adam says it seemed like a perfect place to work, play, and eventually start a family. In fact, they recently bought their dream home in West Kelowna.
Q: Given that you already had solid work experience in Ontario with Bombardier, a regional airline and CFO for a district hospital, what value was Connector Program?
This program absolutely helped me feel welcome and settled here. It's fast-track networking. The program allows for one-on-one conversations with heads of companies. That's an extremely rare jewel to come across. People connected me to others who introduced me to others.  It was a warm introduction instead of cold calling.
Then, when I had meetings, I realized how open people are to new talent in the community. They provided me with more familiarity about the types of work here, the largest players and industries and the state of the local economy and the drivers. You may find some information in civic or other reports but the program helps fill in the context. That's invaluable.
My connector and I had a very good meeting. He told me he'd be looking for someone exactly like me if he didn't have a full team.
Q: That could have been discouraging. Any advice for others who are looking for work?
You don't realize how desirable the community is until you're here. Even in mid-tier roles, you're competing with senior individuals from larger centres. Don't lower your hopes but be ready for the possibility you might not get a comparable level of position. However, be patient and meet new people, even if it's out of your comfort zone. That could be getting involved in groups, professional or personal and it could be business or recreation related. It might be as simple as finding a Facebook group that goes hiking, snowshoeing or cross-country skiing. I met my local real estate agent through an outdoor work-out group.
Q: When you were looking for work here, you also did something wise in reaching out to previous contacts in Ontario.
Yes I did.  I said, hello and do you have any upcoming projects, because I have got some capacity right now. I also asked if they knew others who might need some consulting done.
From that, I got a couple projects to help keep me afloat through the job hunt. I had applied with Interior Health in March and got a call in June. It felt a bit out of the blue. I was actually interviewing for two other places at that time. It seemed like there was nothing for me and then there was everything. Interior Health said their hiring process had been frozen so they were checking to see if I still wanted my name to stand.
Q: So how is the job?
Really interesting. One week, I'm looking at new hospital construction and determining options to see what we can afford or how we can keep cost down or build a more effective healthcare facility.  The next week I'll be working on communications campaign and seeing what metrics can help tie it back to a core mandate or ensure dollars are spent appropriately.
There's also lots of room for advancement. You see individuals that start at the very bottom and end up in VP roles. Interior Health also invests in their employees' professional development. It's a $2.5 billion a year company with another $1.5 billion in projects currently underway. It's huge.
Q: You've said one of the best meetings you had was an introduction made by your Connector. Can you tell me more about that?
I met the owner of Vitalis. It was a great meeting and I felt like I would have had a better shot at any job having met the owner, rather than putting in a resume cold turkey. The other thing I found worked for me was applying to jobs that weren't even posted, going and dropping resumes. I had never had to do that before. It wasn't a strategy widely practiced in Ontario. But, given that employers often get many resumes, it shows initiative and I think that also goes a long way here.
Q: Thanks for all of this. Before we go, what's your favourite thing to do here?
Hike, definitely hike, and snowshoe with the wife and our two dogs. Oh my god, it's stunning here. We try to do one or two every weekend and we haven't even come close to scratching the surface of the multitudes that are here. It's fantastic. It just makes you feel energized.
Interview by Myrna Stark Leader
Learn more about Connector
You Might Also Like...
---