Meet the COEDC – Alex Goodhew
Meet the COEDC October 17, 2022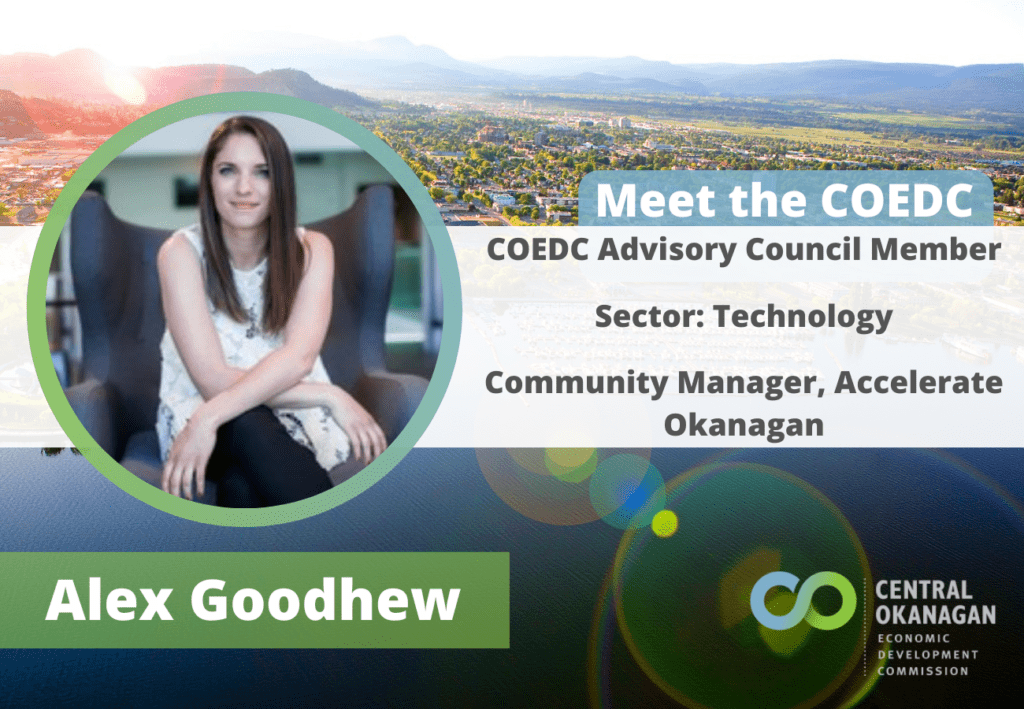 For those who may not know, the COEDC Advisory Council is a conduit of information between business, community leaders and government. The council meets monthly to share information and work together towards sustainable economic growth. It is made up of 45 influential members consisting of industry leaders, community shapers and elected officials. One of these such members being Alex Goodhew!
The aim of the Meet the COEDC campaign is to share with our community who the Economic Development Commission is and showcase the COEDC Advisory Council members who play a critical role guiding the regional economic development service.
Alex is the Community Manager at Accelerate Okanagan, a not-for-profit technology accelerator with a mission to support tech and tech enabled companies grow and thrive in the Okanagan through mentorship programs and community building initiatives.
Alex grew up in the South Okanagan but lived in Vancouver while attending UBC. She returned to the Okanagan to work in higher education and eventually found her way into the vibrant innovation sector.
In her role, she works to connect and collaborate with people interested in and involved with innovation and entrepreneurship in the Okanagan. She focuses on developing and nurturing relationships with community partners, helping to build industry connections.
Continue reading to learn more about Alex's outlook on industry specific trends and forecasts for the Central Okanagan! And check in each Monday to meet a new member of the Advisory Council, and to learn why they love to live and work in the Central Okanagan!
What organization are you from and what is your role?
I am the Community Manager with Accelerate Okanagan. We offer our services to businesses in the entire Okanagan Valley and have offices in Kelowna and Vernon.
What excites you about the future of your respective sector?
The tech and innovation industry is fast paced and it always keeps me on my toes. I'm astounded by the businesses that emerge here locally and the global impact they are having. I see an incredible opportunity for innovation to continue to grow in the Okanagan and the people who live, and work here are making it happen!
Why is participating in the Advisory Council important to you?
Collaboration has always been a value of mine and a key aspect of my role at Accelerate Okanagan. We, as a community, are stronger together! I love being connected to a wide variety of folks in the local community through this Council because there is always more to learn, and you never know what great new initiative or partnership can blossom from a conversation.
Why do you love living and working in the Okanagan?
I was one of those fortunate folks to grow up in the Okanagan, and I've loved this community my whole life. The people, the four-season experience, the outdoor lifestyle, I love it all! I see such growth potential in this region, and I'm excited to be a part of it.
Learn more about Accelerate Okanagan here!
You Might Also Like...
---