Meet the COEDC – Larry Widmer
Meet the COEDC December 5, 2022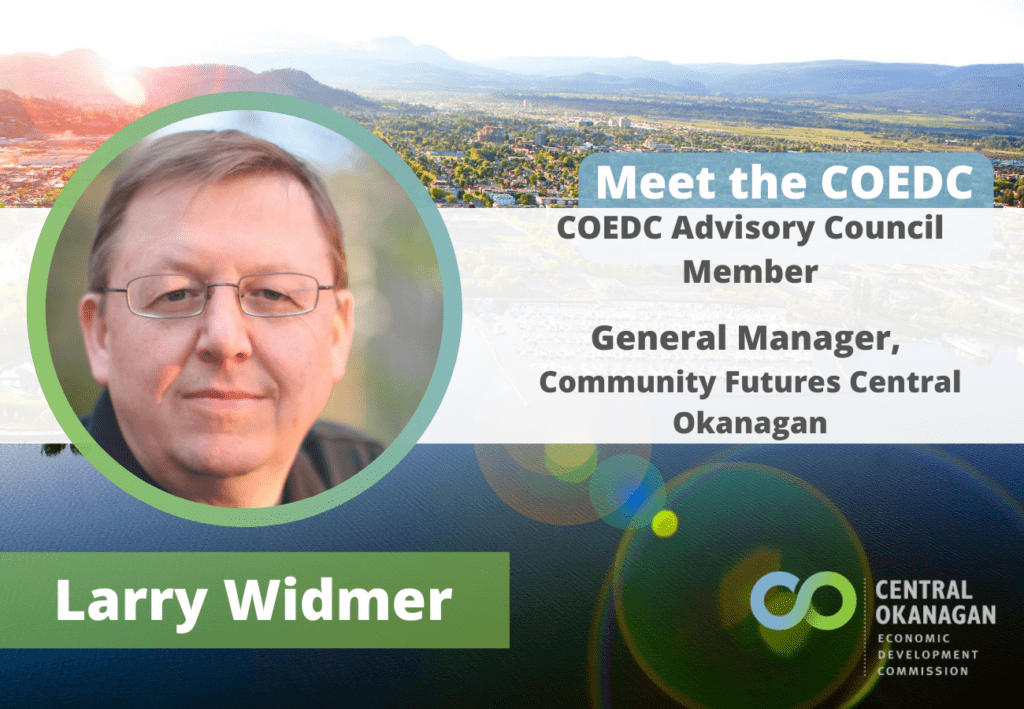 Editors Intro:
For those who may not know, the COEDC Advisory Council is a conduit of information between business, community leaders and government. The council meets monthly to share information and work together towards sustainable economic growth. It is made up of 45 influential members consisting of industry leaders, community shapers and elected officials. One of these such members being Larry Widmer!
Larry is the General Manager of Community Futures Development Corporation of Central Okanagan, a community organization that contributes to the social and economic well being of the region by providing small business owners and aspiring entrepreneurs access to services tailored towards their individual needs.
Larry has extensive knowledge and experience in the realm of business, through strategic investments, executing multiple start-ups, conducting business development best practices, and through the creation and implementation of strategic plans. His connections and resources are enhanced by his role as General Manager of Community Futures in the Central Okanagan, Co-Founder of a real estate brokerage firm in Alberta, Past Chair of the COEDC Advisory Council and being a Fellow Certified Management Consultant.
The aim of the Meet the COEDC campaign is to share with our community who the Economic Development Commission is and showcase the COEDC Advisory Council members who play a critical role guiding the regional economic development service.
Continue reading to learn more about Larry's outlook on industry specific trends and forecasts for the Central Okanagan! And check in each Monday to meet a new member of the Advisory Council, and to learn why they love to live and work in the Central Okanagan!
What organization are you from and what is your role?
General Manager, Community Futures Development Corporation of Central Okanagan.
What excites you about the future of your respective sector?
There is unlimited need for community economic development in the Central Okanagan and throughout BC. I am excited to be leading a team of volunteers, staff and contractors to strategically address these needs to help make a difference.
Why is participating in the Advisory Council important to you?
Being on the Advisory Council helps to connect me with other agencies, businesses and people to build a relationship and work together to address the needs of the region.
Why do you love living and working in the Okanagan?
Have family, friends and good access to the great outdoors here. My work here is very meaningful and satisfying.
Learn more about Community Futures Central Okanagan here!
You Might Also Like...
---