Meet the COEDC – Nicole Udzenija
Meet the COEDC November 21, 2022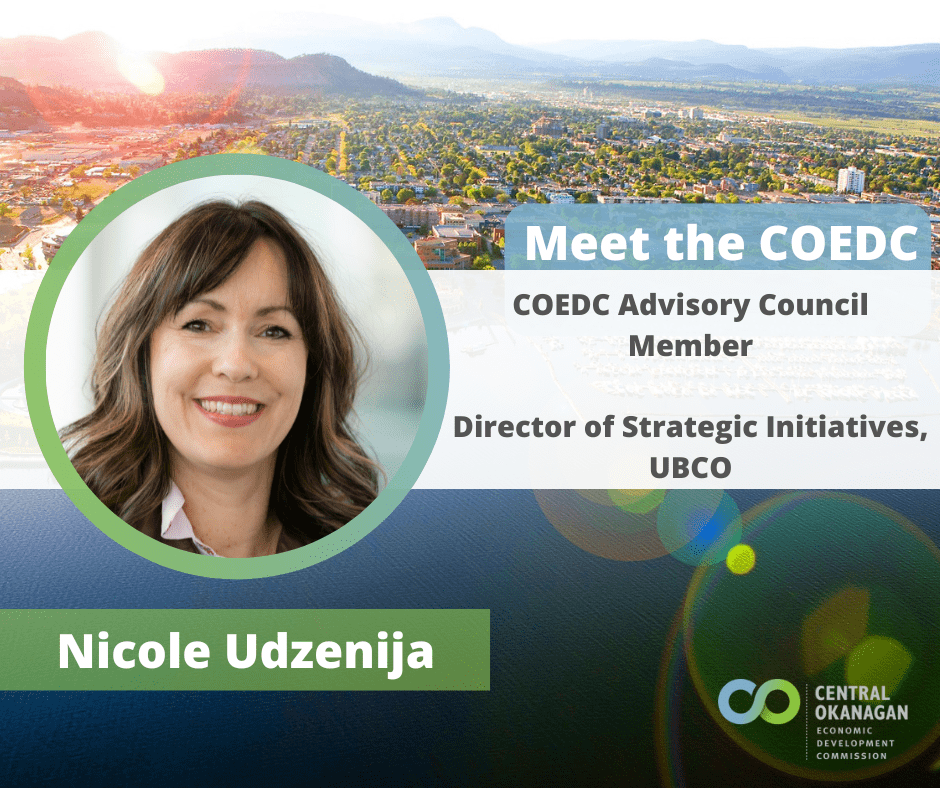 For those who may not know, the COEDC Advisory Council is a conduit of information between business, community leaders and government. The council meets monthly to share information and work together towards sustainable economic growth. It is made up of 45 influential members consisting of industry leaders, community shapers and elected officials. One of these such members being Nicole Udzenija!
Nicole joined the University of British Columbia in 2007 and is currently the Director of Strategic Initiatives in the Office of the Deputy Vice-Chancellor and Principal, UBC Okanagan.
Prior to UBC, she worked in successive communications and change leadership roles at Telus, Port Metro Vancouver, and Vancouver Coastal Health. Most recently, she served as part of the leadership team that successfully implemented an Enterprise Resource Management system for the University of Illinois.
Her background includes communications, change management, leadership development and strategic planning, and in her current role at UBC, she has responsibility for leading strategic planning. In that capacity, she stewarded the Aspire visioning process, and works to ensure alignment across portfolios and on major projects.
She is past Vice-Chair of the Project Literacy Society and serves as an elected representative to the UBC Board of Governors.
The aim of the Meet the COEDC campaign is to share with our community who the Economic Development Commission is and showcase the COEDC Advisory Council members who play a critical role guiding the regional economic development service.
Continue reading to learn more about Nicole's outlook on industry specific trends and forecasts for the Central Okanagan! And check in each Monday to meet a new member of the Advisory Council, and to learn why they love to live and work in the Central Okanagan!
What organization are you from and what is your role?
I'm the Director of Strategic Initiatives with UBC Okanagan, working out of the Principal and DVC's office. I work with campus leadership to facilitate strategic alignment on short- and long-term priorities for the campus. I am also currently one of the elected representatives to the UBC Board of Governors.
What excites you about the future of your respective sector?
Everything. In both my position, and in my role as mother to a 16-year-old, I am excited for all that higher education is and will be able to offer to not just our young students but in terms of continuous learning to ensure we are all prepared for the rapid changes affecting our societies. Coming through the pandemic, we've been able to pivot and develop new ways of learning together, creating new knowledge together and having a collective impact. I'm looking forward to how we can take these lessons learned during the past few years and apply them to offer more flexible and dynamic options to our local and global community.
Why is participating in the Advisory Council important to you?
UBC Okanagan was founded in partnership with the communities that comprise the interior of BC, with the very real commitment to have a positive social and economic impact. That includes providing access to learning for students, conducting research that takes on global and local challenges, and creating dynamic connections with our communities to ensure we are working collaboratively towards a better future. Participating in the COEDC is one way that we can keep in touch with different sectors in the community, and better understand the opportunities and challenges that they are facing, so that we can make the connections to the work we are doing that may be relevant or identify new ways of working together. I find the COEDC does a tremendous job of creating networks, and the space for topical discussions, and I've really learned a lot during my time at the table that has led to action beyond the table.
Why do you love living and working in the Okanagan?
I grew up in the Okanagan and returned after time spent in living and working in Vancouver and Illinois. What was initially a temporary return became more permanent, mostly because the region is diversifying in terms of its population and in the variety of opportunities that exist to live, work and learn here. I love the spirit of entrepreneurialism that's grown in the Okanagan, and the growing infrastructure to support existing and new enterprises. I love that there is a great college and a great university in the region, attracting and retaining  students who bring new ideas and enthusiasm to area. And of course, I love everything that comes with living in this beautiful area of mountains, lakes and trails. It's an exciting time to be here!
You Might Also Like...
---