Meet the COEDC – Rich Threlfall
Meet the COEDC August 18, 2022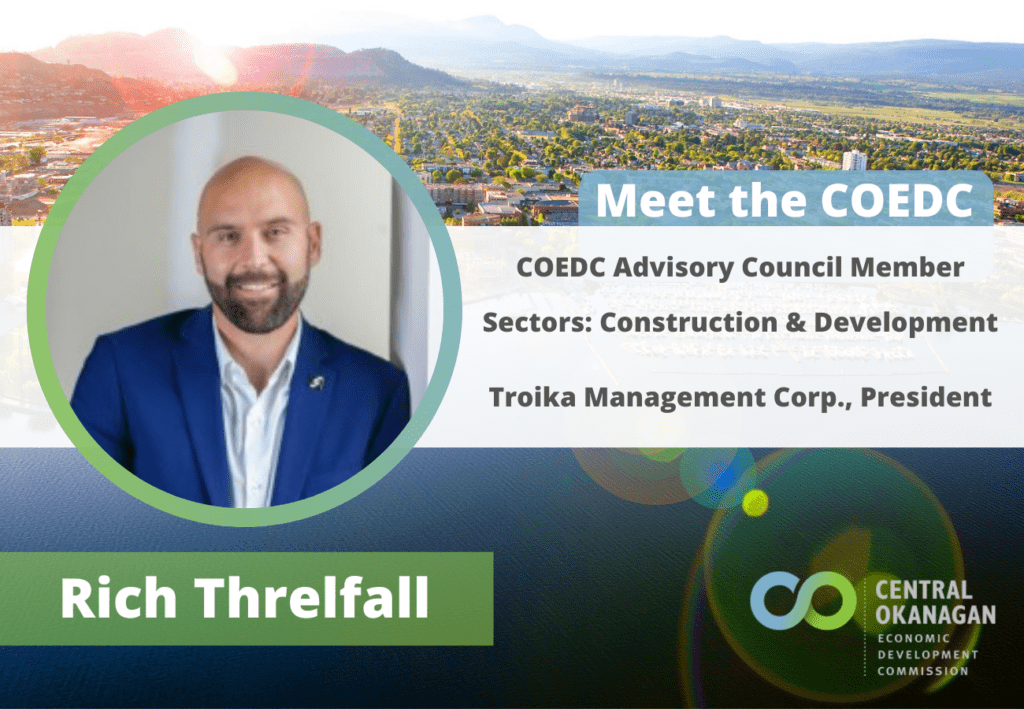 Editors Intro: 
For those who may not know, the COEDC Advisory Council is a conduit of information between business, community leaders and government. The council meets monthly to share information and work together towards sustainable economic growth. It is made up of 45 influential members consisting of industry leaders, community shapers and elected officials. One of these such members being Rich Threlfall!
The aim of the Meet the COEDC campaign is to share with our community who the Economic Development Commission is and showcase the COEDC Advisory Council members who play critical role guiding the regional economic development service.
Rich is the President of Troika Management Corp., a progressive, future-focused land and real estate development company based in Kelowna, BC. He joined the organization in 2012, and previously held the position of Vice President of Development for six years prior to becoming President in 2020.   As both an aerospace and civil engineer, Rich has led the development teams at Troika as the company expanded further across Western Canada. He has experience in commercial development, residential, large-land mass and multi-family development projects spanning across the country.
Continue reading to learn more about Rich's outlook on industry specific trends and forecasts for the Central Okanagan! And check in each Monday to meet a new member of the Advisory Council, and to learn why they love to live and work in the Central Okanagan!
What organization are you from and what is your role?
I am the President of Troika Management Corp.
What excites you about the future of your respective sector?
The Okanagan is a great place to live and will continue to be in demand.  This creates opportunity for our industry to be innovative in how we can respond to that demand, while meeting the sustainability and social goals of the community.
Why is participating in the Advisory Council important to you?
It is a great opportunity to represent our industry, while providing the opportunity to better understand how other sectors of our community are involved in the overall success of our economy.
Why do you love living and working in the Okanagan?
The Okanagan has everything to offer, from great amenities to a vast array of outdoor activities.  I love the people here and the ability to enjoy all four seasons.
Learn more about Troika here!
You Might Also Like...
---