Meet the COEDC – Tony Stewart
Meet the COEDC August 18, 2022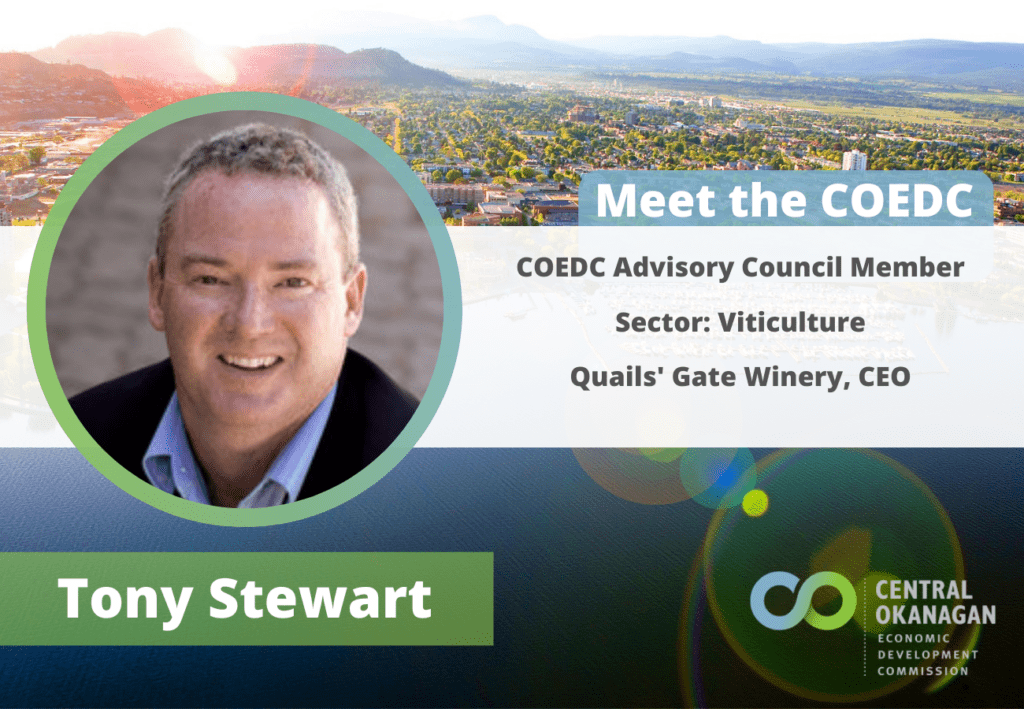 Editors Intro:
For those who may not know, the COEDC Advisory Council is a conduit of information between business, community leaders and government. The council meets monthly to share information and work together towards sustainable economic growth. It is made up of 45 influential members consisting of industry leaders, community shapers and elected officials. One of these such members being Tony Stewart!
The aim of the Meet the COEDC campaign is to share with our community who the Economic Development Commission is and showcase the COEDC Advisory Council members who play a critical role guiding the regional economic development service.
As CEO of Quails' Gate Estate Winery, Tony directs much of his energy in creating an environment that enables Quails' Gate to succeed as one of the world's best wine houses. He is passionate about ensuring that Quails' Gate visitors receive exceptional product and service. He also devotes significant time to several local, industry, provincial and national associations.
As one of Canada's foremost family-owned estate wineries, through three generations of family passion, the Stewart family has shaped the development of the wine industry for over six decades and have become pillars of the Okanagan Valley wine community. Their first vines were planted in 1961, and the success of the project saw the establishment of Quails' Gate Winery in 1989. Over the next two decades, the entire family became involved in making the company one of the leading producers of premium BC VQA wines.
Today, they farm more than 200 acres of vineyards and are widely regarded as industry experts in the development of Canadian viticulture practices.
Continue reading to learn more about Tony's outlook on industry specific trends and forecasts for the Central Okanagan! And check in each Monday to meet a new member of the Advisory Council, and to learn why they love to live and work in the Central Okanagan!
What organization are you from and what is your role?
I am the CEO of Quails' Gate Winery.
What excites you about the future of your respective sector?
What excites me about the viticulture sector is the ongoing development of this region as North America's leading culinary destination.
Editors Note: Speaking of culinary destination, check out Quails' Gate website here to learn more about their Old Vines Restaurant, an all-season farm-to-table culinary destination focused on sustainably sourced local ingredients.
Why is participating in the Advisory Council important to you?
Participating in the COEDC Advisory Council is important as it provides the opportunity to ensure that issues impacting local value-added agricultural producer's perspectives are brought forward. It also allows the opportunity to provide insight for sustainable growth in the Okanagan.
Editors Note: One of Quails' Gates passions is cultivating respect for the land. In 2022, their vineyards were certified sustainable by Sustainable Winegrowing BC, a made-in-BC program that leads the way in sustainable winegrowing practices and sets a standard for the province and the rest of the country. Learn more about their sustainable practices here!
Why do you love living and working in the Okanagan?
It is one of the world's hidden gems, abundant resources, wonderful four seasons and lots of great things to do.
Learn more about Quails Gate Winery here!
You Might Also Like...
---