Connector Program – Connectee Q&A with Mayu Tanaka
Connector August 3, 2021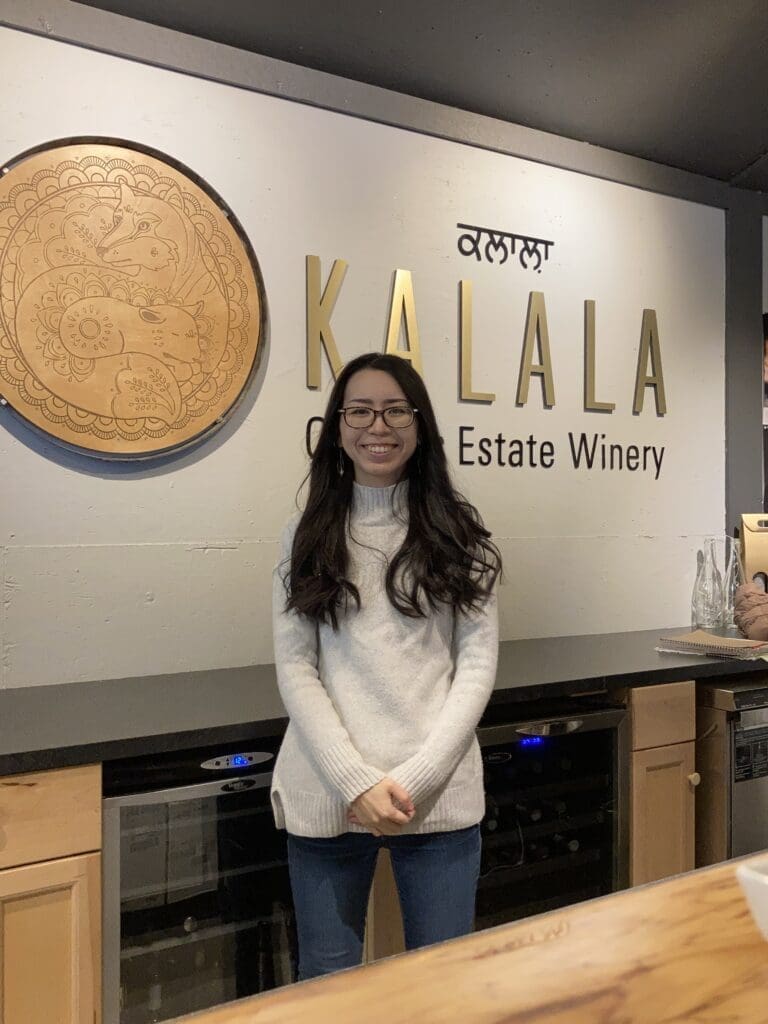 Like many international students, Mayu Tanaka was expecting to return home to Japan after finishing her Post-Baccalaureate Diploma in Marketing at Okanagan College in summer 2020. She'd worked in Japan prior as an educational recruiter marketing Canadian, Austrian, Korean and Filipino schools before coming to Kelowna. Because of this, she didn't do as much as she could have to build work relationships in the Okanagan. However, the pandemic changed her plans. Needing to find work, she connected with the College's Coop office to see where to start. They suggested the Okanagan Young Professionals Collective, who in turn introduced her to the COEDC Connector Program. Today, Mayu is the marketing manager for Kalala Organic Estate Winery in West Kelowna.
Q: How did you get your job?
While I had work experience in Japan, I didn't' have it here. I didn't really know where to start.  I was just looking for someone in the industry I was interested in. After applying for the Connector Program, the program manager reached out saying a winery was looking for help with their marketing. She asked if she could introduce me on paper to the owners. I agreed and within a short time, I was going for an interview for part-time work at the winery.
My first interview was with the winery owner, his wife, and the office & winery manager. I was really nervous but they told me how they love the winery and how they feel connected to each other, like family. The owner said I had the qualifications so he would leave marketing to me and if I didn't know something, we'd work through it together saying, if I wanted to be a part of the family, I was welcome. It wasn't the interview I'd expected.
Q: How is the job going?
Pretty good. I started doing digital marketing. I manage their social media channels and content and do some website work as well as planning marketing campaigns. I may even get to do more since one of their employees is now on maternity leave and there's work to do. It's full-time now.
Q:  Do you have advice for others?
For students, especially international students, start making connections early. That can be cold calls to businesses, internships or volunteering and make use of available programs and resources. You need to do this. As an international student, I see people who stay within the circle of people they know way too often. I also don't see them reach out for help that is offered. For example, I did a mock interview at the College before my interview with Kalala. It helped boost my confidence some but really it boosted by comfort in English, enabled me to practice my answers and gave me valuable tips.
Making connections, or volunteering can lead to Canadian work, which is great for the resume.
Also, even if you get rejected once, keep applying for things like Coop programs, or jobs. You never know when you'll get a chance.
I really was not confident enough in my Kalala interview but the practice session really helped prepare me for my interview. Talking with native English speakers is important.
Q: Do you have a favourite Kalala wine?
The weird thing is I don't really drink wine, or much alcohol. But I kind of fit in with Karnail who doesn't drink either. I do like Kalala's dessert and ice wines.
Q: Will you stay in the Okanagan and apply for Permanent Residency?
I'm considering it. One of the nicest things Karnail has ever said to me was that they would help me apply because, they know how hard it is to get started here. He sees it creating potential opportunity for me. He says if I'm planning to stay two years, I should just do it because it will be good to have in the future, even if I go to a different job.
Q: What's a favourite thing for you to do in your time off?
In summer, it's hiking. I have found lots of great no-so-well travelled hikes. And in winter when hiking is less attractive, I discovered some nice special kind-of hidden coffee shops.
Interview by Myrna Stark Leader
Learn more about Connector
You Might Also Like...
---